UNFPA Kenya staff today poured warm accolades on their Officer In Charge, Mr. Bouri Jean Victor Sanhouidi, at a special luncheon held in his honour. The KCO staff praised Mr. Sanhouidi for his wise leadership and counsel throughout the six month period. Mr. Sanhouidi was particularly extoled for the role he played in the finalization of the 2013-2017 United Nations Development Assistance Framework (UNDAF) and the 8th Country Programme Document (8th CPD).
There was laughter as staff members gave humorous accounts of interactions with Mr. Sanhouidi; and shed tears of appreciation as other staff members recounted nostalgic events that marked his six-month assignment in Kenya.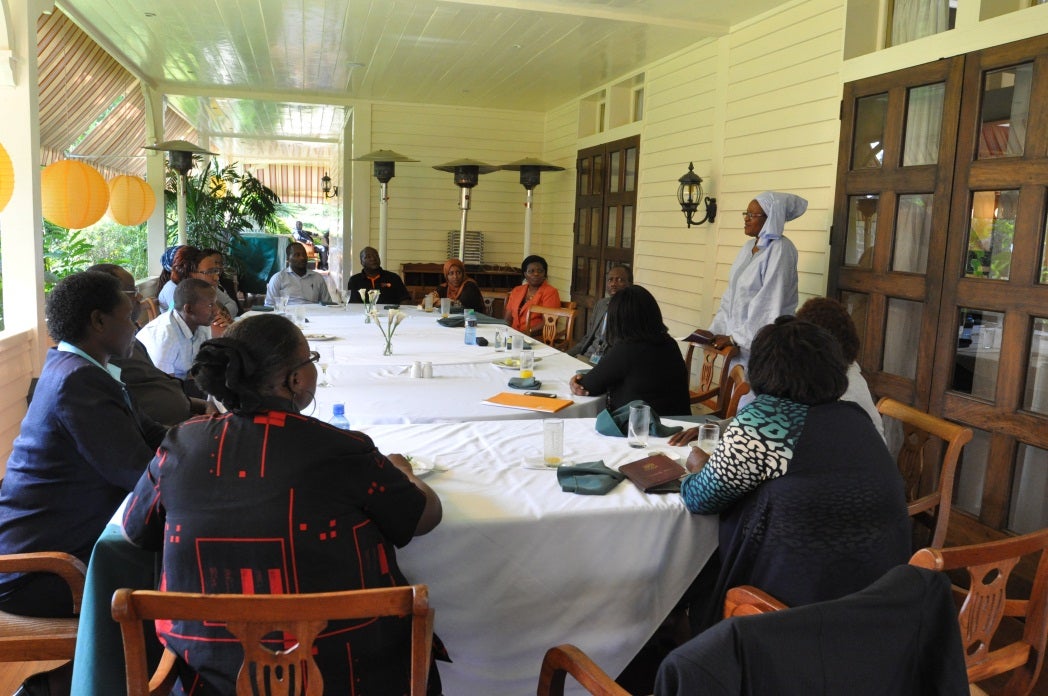 "We will truly miss your wisdom and guidance," said Deputy Representative Ms. Gift Malunga in her remarks. "You involved every single member of staff in the operations of the office and made us feel and work like a family. For this, we thank you. You leave the Kenya Country Office better than you found it and we shall complement your legacy by making it better as we head towards implementing the UNDAF and 8th CPD."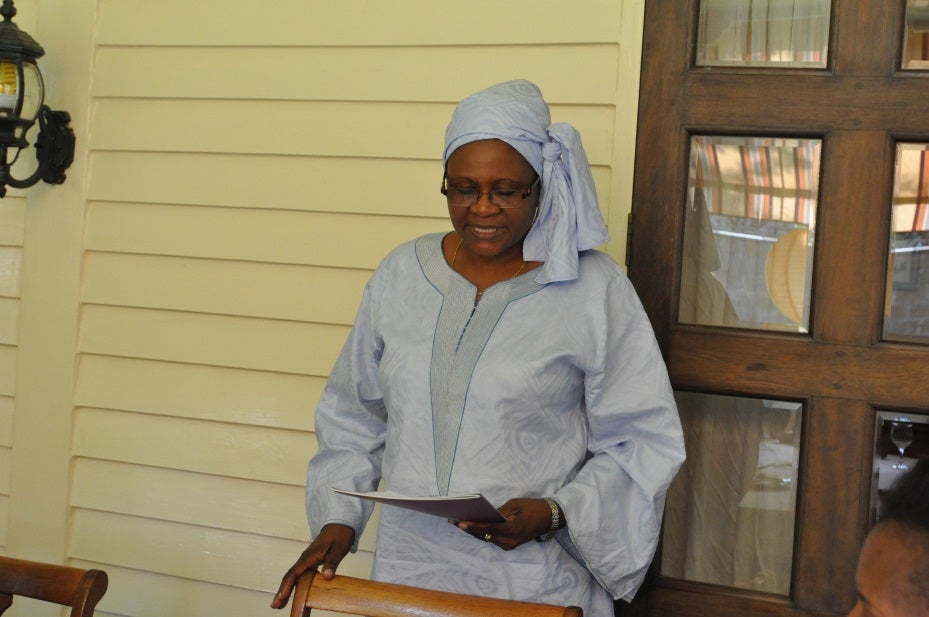 Led by Ms. Malunga, the staff bestowed on Mr. Sanhouidi the status of honorary 
mzee
 (elder) as they presented him with a traditional wooden carved stool from the Luo community, a walking stick that could also be used as a weapon from the Agikuyu community, a traditional shield and blanket from the Maasai community, and a fedora hat to protect him from the hot rays of the sun in his village Koupela (meaning literally "White Stone") in Burkina Faso, where he planned to settle after completing his mission in Kenya.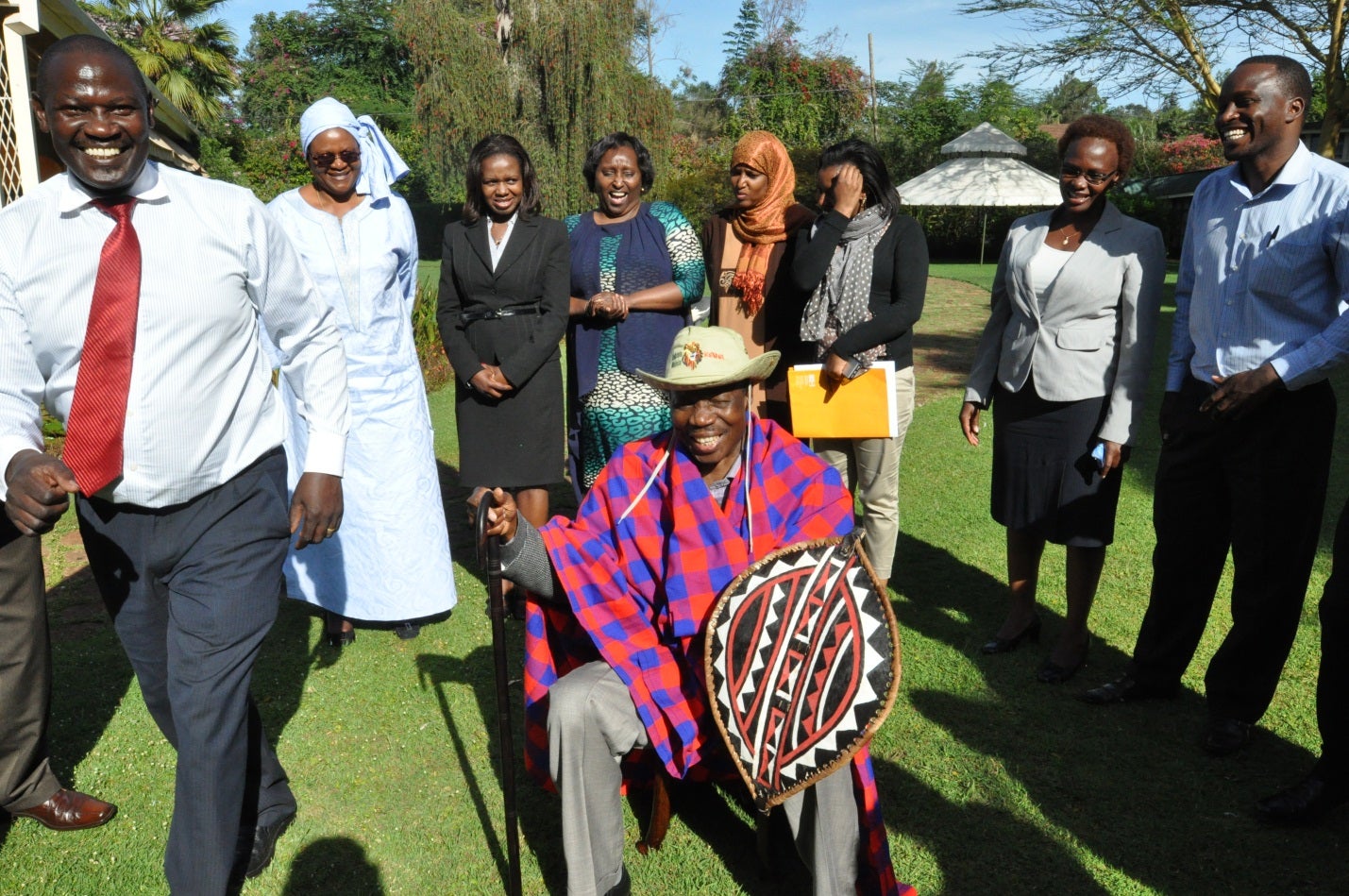 "I'm so touched by this gesture and for you honoring me as a mzee," said Mr. Sanhouidi amid emotional laughter and tears of joy. "I feel really humbled by all your testimonies and I'm surprised that I had such a great impact on all of you individually and as the office in general. Truly I'm overcome. It is not easy to leave so many good colleagues and friends. But this is life! I will always feel like a part of the great Kenya Country Office team!"
Mr. Sanhouidi commended the KCO staff for their commitment and dedication to the UNFPA mandate, adding that the reignited team spirit would enhance the achievement of even more successes, particularly as KCO geared towards the implementation of the UNDAF and 8th CPD.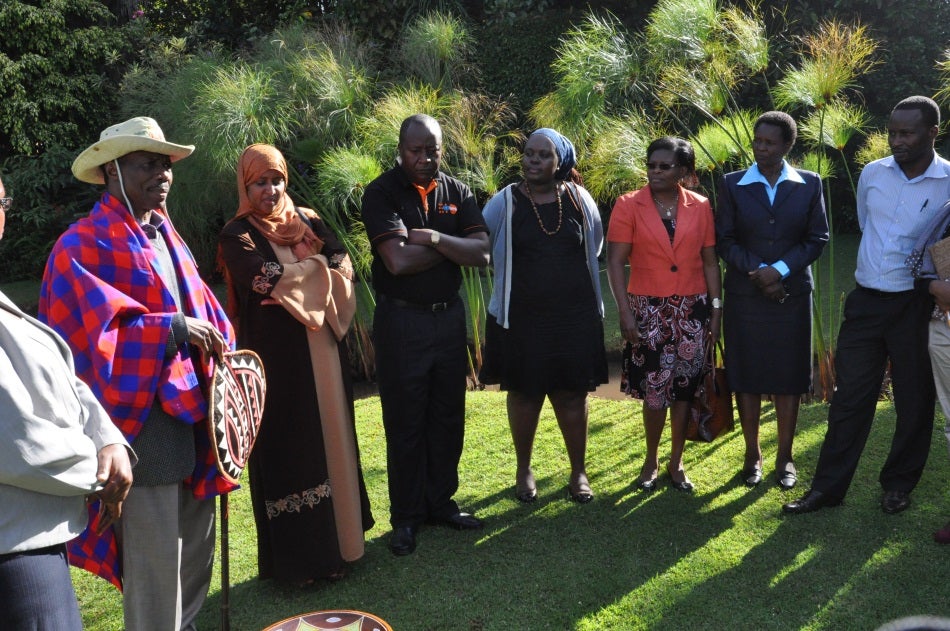 "My almost six month assignment with UNFPA Kenya has been an exciting moment and a very rewarding one, thanks to your excellent collaboration and your friendship," Mr. Sanhoudi told the staff. "I was really privileged to have been given the opportunity to work with you. Together we achieved a lot and this was possible thanks to your commitment, dynamism, professionalism and team spirit.  The challenges ahead in relation to the implementation of the new CPD are huge, but I have no doubt that with the same engagement, dynamism and motivation you will be able to deliver and maintain a strong UNFPA KCO within a strong UN system in Kenya."
Mr. Sanhoudi's mission in Kenya ends on March 21, 2014.