The year 2020 began on a high note for us, bolstered by the hope and promise of the commitments made at the ICPD25 Nairobi Summit in November 2019. The Seventeen Commitments made by Kenya crystallized our focus towards achieving transformative results for women and girls, and other vulnerable constituents of the Kenyan population, as we embarked on collaboration and synergy with the national and county governments,...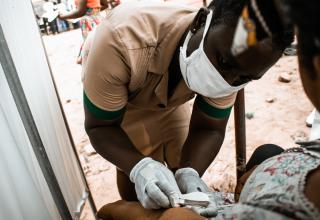 Nearly half of women in 57 developing countries are denied the right to decide whether to have sex with their partners, use contraception or seek health care, according to UNFPA's 2021 flagship State of World Population report, released today. This lack of bodily autonomy has massive implications beyond the profound harms to individual women and girls.
Nearly half of all women are denied their bodily autonomy, according to data from 57 countries, UNFPA's flagship report announced today. The 2021 State of World Population report, titled My Body is My Own, marks the first time a United Nations report focuses on the power and agency of individuals to make choices about their bodies without fear, violence or coercion.
Vacancies
An intergenerational conversation on ending FGM in West Pokot County. Photo: UNFPA/Luis Tato. UNFPA is the...