At her homestead in Nguroto village, Samburu County, 57-year-old Reina Lelesit spreads a mat made of cowhide where she sits and gathers her beadwork materials. She is making a traditional Samburu necklace which she hopes to sell for 1,000 Kenya Shillings at the local market. Reina is a reformed circumciser who once performed Female Genital Mutilation (FGM) on girls, as a way of earning money. 
"I grew up believing that FGM was part of the culture and a way to make money, but three years after I started cutting girls, I realized that I was only harming them, because they could not continue with their education,"  says Reina. She is among hundreds of women who have taken up beadwork as an income-generating activity that empowers them to shun harmful practices such as FGM and child marriage.
UNFPA has partnered with Japanese company Panasonic Corporation to distribute more than 2,000 solar lanterns to women such as Reina, with the goal of supporting women's economic empowerment. The lanterns will also be distributed to adolescent girls and boys in local primary schools to support their education and learning in the evenings while sensitizing them on their role in the elimination of female genital mutilation and harmful practices such as child marriage.
"Panasonic is committed to driving positive social change through initiatives that serve to eradicate poverty and promote education, especially in underserved communities," said Panasonic Corporation CSR and Citizenship representative Mr. Naoyuki Tada. "The solar-powered lanterns will eliminate lighting expenses so that work and study can continue during the evening hours. By improving education and livelihood outcomes for women and girls, we are able to support them in building a brighter future."
Anti-FGM Board CEO Ms. Bernadette Loloju lauded Panasonic Corporation and UNFPA for the initiative saying, "education is key to building an empowered generation that can end FGM and child marriage in our communities. When we support girls and boys to stay in school, we are reducing their vulnerability to these harmful practices."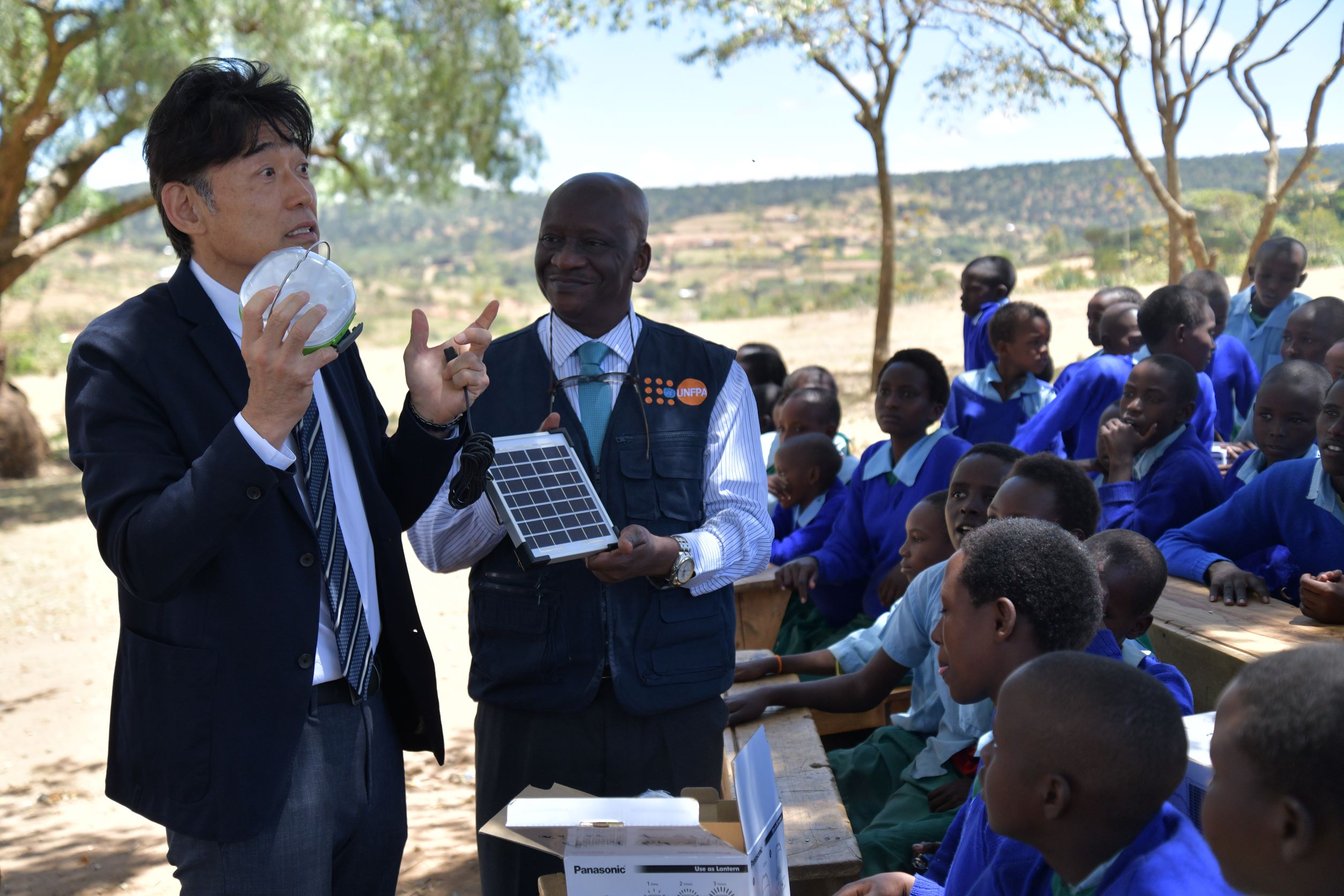 Solar lanterns are a clean and cost-effective energy solution for many poor and rural households that remain outside the electricity grid. " We work into the night after completing our household chores as that is the only free time we have," says Reina.  Threading the fine and delicate beads into jewelry is very time-consuming and requires good lighting. With no access to electricity, the women have been using kerosene lamps to continue working after sunset. 
"Four months ago, a liter of kerosene was retailing at Kenya shillings 120, but now, the price has gone up to nearly 150 shillings," says 50 year old beadmaker Monica Lowuapere. Rising fuel prices and an ongoing drought in Samburu county have had a devastating impact on women's businesses. "We used to sell a lot of jewelry to the Samburu Morans, but now all the young men have moved with the cattle in search of water and pasture," says Ms. Lowuapere. Barely able to afford kerosene, the women have had to scale down the hours spent in jewelry production. Many homes opt to turn off the lamps early in the evening, which means that young girls and boys who depend on the light to study at night are also unable to do so.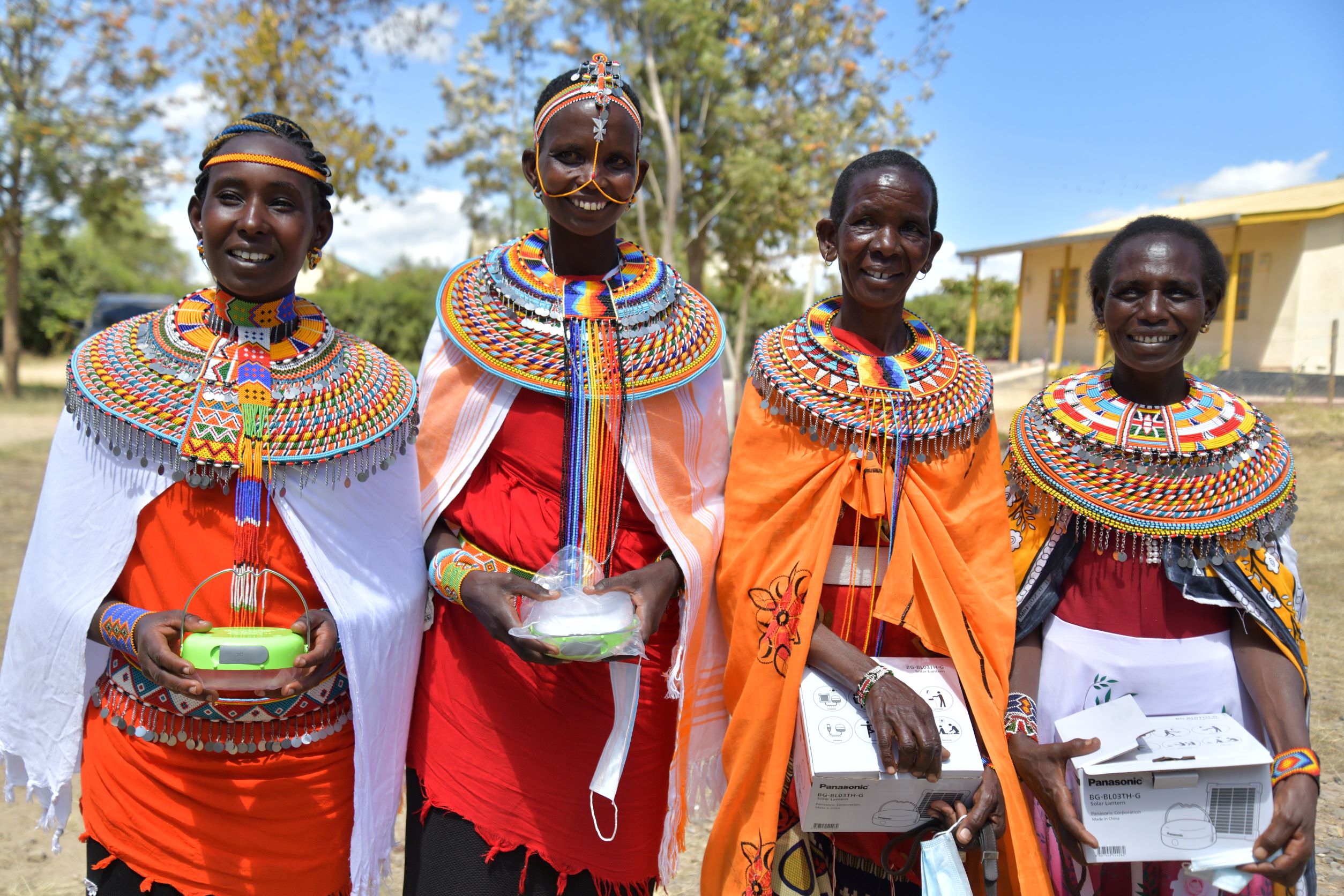 Samburu and West Pokot counties are FGM hotspots with FGM prevalence rates of 86% and 74% respectively. The practice is considered a rite of passage from girlhood to womanhood, and girls as young as eight years old who undergo the cut are often forced into child marriage, with their education cut short. "When girls and women are empowered economically and through education, they can reclaim their voice, exercise their rights and transform their communities towards the abandonment of negative social and gender norms that drive practices such as FGM and child marriage," said UNFPA Kenya Deputy Representative Dr. Abiodun Oyeyipo.
UNFPA works with partners including the Anti-FGM Board, World Vision, Ushanga Kenya and the Kenya Red Cross to implement programs aimed at accelerating the abandonment of FGM in 22 hotspot counties across Kenya. In 2019, UNFPA supported Ushanga Kenya to implement an initiative dubbed the "Johari End FGM Beads Initiative," which aims to support the production and marketing of jewelry produced by women's beadwork cooperatives operating in FGM hotspot counties. The cooperatives have been equipped with raw materials and training to support the commercialization of the beads business and improve the women's earning power. 
Pastoralist communities in Samburu and West Pokot counties have traditionally relied on income from cattle and goats, but with animals dying as a result of the ongoing drought, income generated from beadwork is helping families counter the economic devastation caused by such losses. "With earnings from beadwork and by saving through the cooperative, I have been able to educate my children over the years, and build a house for my family after the death of my husband," says Reina Lelesit. "Being educated and having an income that can contribute to the home means that our opinions as Samburu women are valued. We can say no when the men want to cut our girls or to earn dowry by giving them away as child brides," she adds.