"It's hard to believe looking at me now, but as a young student in university I would go for months without food, surviving on one meal a day," says Daniel Wanderi. "Nobody should have to go through that." Having grown up in a small rural town in Nyandarua county, Mr. Wanderi's move to Nairobi for university studies was challenging to say the least. " My parents were not well off financially and so I had to make my own way in the city. To escape homelessness, I found accommodation in Mukuru kwa Jenga and Kibarage slums where I lived for the duration of my studies."  
Mr. Wanderi survived by doing odd jobs and selling clothes to fellow students. His luck turned after graduation, when he was able to find formal employment as a business strategy lead for a technology company., "When Covid-19 struck, I began to feel the economic pinch like so many other Kenyans. Food supply was disrupted and the price of items such as tomatoes had almost doubled," he says. He couldn't help but think of the impact the pandemic was having on young people, particularly his former neighbors living under impoverished conditions in informal settlements. 
Turning the tide on hunger 
According to the 2019 population census,  the youth make up the majority of Kenya's population, with 75% aged below 35 years. 34% of households are headed by young people between the ages of 18-34 years. In the search for economic opportunities, many prefer to live in urban areas.
"I was motivated to help other young people avoid the kind of hunger I had experienced as a student, and my research led me to discover hydroponic farming," says Mr. Wanderi.
The farming technique involves growing plants without soil, and requires much less water than most farming methods. "It is more environment-friendly as it saves on water and plants are grown in a controlled environment with reduced need for pesticides and fertilizer," he says. 
To test the idea, he created a hydroponic garden at his apartment rooftop using recycled plastic materials where he grew spinach, kale, and tomatoes. "I was able to harvest nearly 20 tonnes of tomatoes from that garden over a course of several months, and I knew I had a solution in my hands," he says.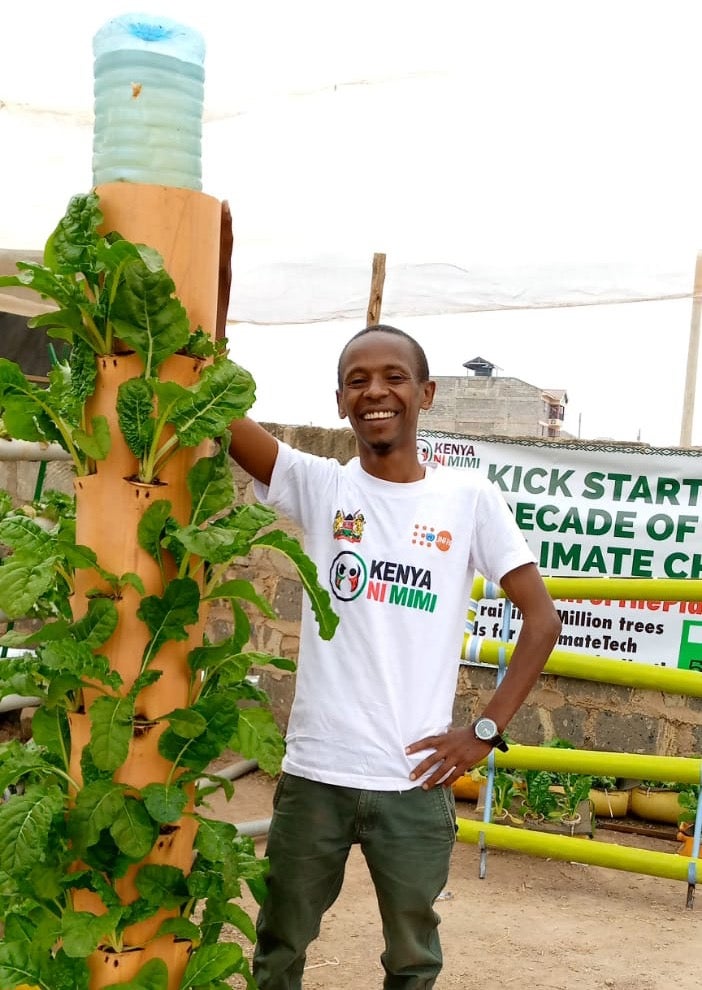 Mr. Wanderi has innovated further to come up with garden designs for use in urban households, including vertical hydroponic gardens built around a pole that can hold between 30-150 plants, as well as balcony and hanging gardens which can support 40 plants each. He regularly trains groups of people on hydroponic farming and has helped families, schools, and businesses to set up gardens of their own. "I worked with the informal settlement communities to develop solutions that ensure every household can produce enough food to feed the average family, no matter the size of their space."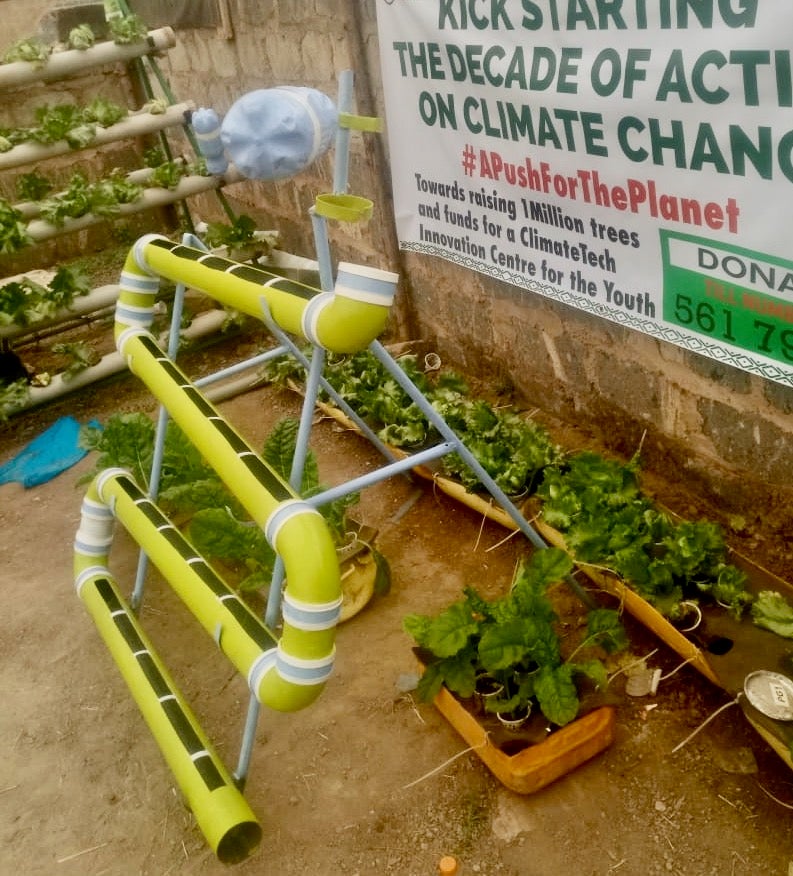 Youth-led solutions to development challenges
Mr. Wanderi is the national ambassador on environmental conservation for the Kenya Ni Mimi initiative, a youth engagement platform established by the Ministry of  ICT, Innovation and Youth Affairs, in partnership with UNFPA. The platform supports youth to lead dialogue and policy advocacy actions aimed at driving greater investments in the health, education, and empowerment of young people. It also provides information on access to youth development programs such as government run enterprise funds and training opportunities.
Through the initiative, Mr. Wanderi has been able to train nearly 200 youth on hydroponic farming. Most recently, he has been teaching Kenya Ni Mimi youth from the south rift region of Kenya, how to grow animal fodder using hydroponic farming methods. With some areas of the region prone to conflict over animal pasture, the youth hope to develop a lasting solution that can bring peace to the neighboring communities.
Mr. Wanderi hopes that his climate friendly approach to farming can help improve human and planetary health by ending hunger for those most in need. "My wish is that more resources are channeled towards youth-led innovations on climate change, so that we can reach more people with sustainable and green solutions to development challenges," he says.