Through technical and financial assistance from the United Nations Population Fund (UNFPA), the Midwives Association of Kenya (MAK) was launched on August 11, 2016 in Eldoret, Kenya.
The historic event marks the establishment of a midwifery-focused association that will champion the interests of midwives in Kenya and work in partnership with the Government and all stakeholders, including UNFPA to achieve world-class midwifery services in the country.
MAK is an autonomous body, which has been recognized by the Kenyan Government and the regulatory body, the Nursing Council of Kenya. This means that they can independently advocate and mobilize resources to strengthen midwifery practice to save the lives of mothers and their infants across the country.
UNFPA has been a great force behind MAK's establishment, through provision of technical support and financial assistance. This support has placed UNFPA as a key partner of the midwives' goal of saving women and newborns' lives.
It also resonates well with UNFPA's commitment to work with partners, governments and policymakers to help build a competent, well-trained and well-supported midwifery workforce in low-resource settings.
The launch was presided by Kenya's Health Cabinet Secretary, Dr. Cleopa Mailu and the Governor of Uasin Gishu County, Jackson Mandago.
UNFPA was acknowledged as a key partner of the midwives' goal of saving women's and newborns' lives. We look forward to nurturing the "newborn" association to transform lives of women and girls in this country.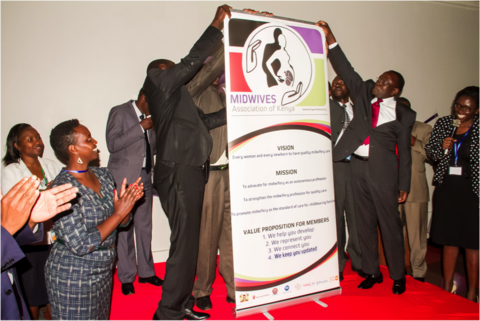 It's estimated that between 5,000 to 6,000 women die while giving birth each year in Kenya, while 39 out of 1000 babies die at birth. In addition, one in every 19 children die before their 5th birthday. It's against this backdrop that UNFPA is committed to deliver a world where every pregnancy is wanted, every childbirth is safe and every young person's potential is fulfilled.
Midwives and others with midwifery skills are the single most important cadre for preventing maternal, neonatal deaths and stillbirths, but the number of midwives falls far short of the need. There is a global critical shortage of 3.5 million health workers, including 350,000 midwives, without whom millions of women and newborns are at risk. In Kenya, there is a current ratio of one midwife to 2,500 women.
Midwives can help prevent two thirds of all maternal deaths and half of newborn deaths, provided they are well-educated, well-equipped, well-supported and regulated. Midwives serve in different areas. They not only deliver babies but are also provide comprehensive sexual reproductive health services, post-abortion care, the prevention of mother-to-child transmission of HIV as well as Family Planning counseling and services.
Well-trained and supported midwives working in communities are uniquely positioned to provide the compassionate, respectful and culturally sensitive care a woman needs during pregnancy and childbirth. Midwifery is equally important for newborns during the critical first month of life, and is a significant contribution to sexual and reproductive health in general.
UNFPA is helping train and support thousands of midwives in more than 100 countries. A recent survey estimated that in 57 of these countries, UNFPA has trained 66,000 midwives over the past seven years. These critical health-care providers can help more than 11 million women to give birth safely each year, but much more needs to be done. 
Midwives are our heroes and the backbone of sexual and reproductive health. It's for this reason that UNFPA is committed to support MAK in ensuring every woman and every newborn has quality midwifery care.