Following a meeting with the Founder and CEO of One by One, a US-based organization working with victims and survivors of obstetric fistula in Western Kenya, UNFPA Kenya Representative (ad Interim) pledged more support with the objective of eradicating the condition.
UNFPA has committed to mobilize more resources towards the treatment of obstetric fistula, which may include an expansion of existing facilities to treat the medical condition.
In addition, UNFPA will look into ways of increasing support for income-generating activities undertaken by obstetric fistula survivors in order to increase their economic base and assist with their re-integration into their families and communities.
"Besides supporting solar charging equipment for mobile phones, we would like to look into other activities such as dairy farming, poultry and fish ponds among others," said Dr. Benjamin O. Alli, the UNFPA Kenya Representative (ad Interim). He said this during a meeting with executives from One by One, a US-based organization working in Western Kenya with victims and survivors of obstetric fistula. One by One works mainly in Kenya, Ethiopia, Tanzania and Niger.
The meeting between UNFPA and One by One further explored mutual areas of partnership and support with the ultimate aim being to reduce the suffering of women living with obstetric fistula, and those recovering from the condition following successful surgeries.
"As UNFPA, we are eager to partner with organizations such as One by One and other local civil society organizations that are working directly with the communities," said Dr. Alli. "We want to hear more success stories and learn that our support is changing and improving lives."
Already, UNFPA provides great support to the Moi Teaching and Referral Hospital in Eldoret and the Mumias Muslim Community Program (MUMCOP) among others.
On her part, Ms. Heidi Breeze-Harris, the founder and CEO of One by One, expressed enthusiasm at the proposed collaborative efforts that would alleviate the suffering of thousands of women. "We believe that obstetric fistula can go away," she said. "After years of work in Kenya, Ethiopia, Tanzania and Niger, we are convinced of this more than ever, and we are determined to make this condition go away completely from Africa.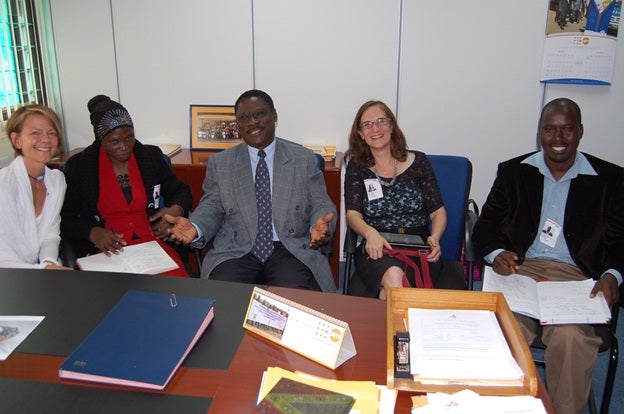 Various challenges affecting survivors of obstetric fistula were highlighted that included the post-operation complications that arise from their surgeries, the increased number of victims coming out to seek care at health centers and hospitals, and the strain on existing resources and facilities as a consequence of this.
Discussions around proposed solutions revolved around enhanced training and capacity building of obstetric fistula surgeons, increased support and partnership with the private sector, introduction of motorcycle ambulances and mobile clinics, and accelerated CARMMA campaigns to reduce maternal mortality.
The anticipated visit to Kenya by the United Nations Under-Secretary and UNFPA Executive Director, Dr. Babatunde Osotimehin later in the year is expected to raise national awareness on a medical condition that is affecting thousands of poor women in the country.
Ms. Harris was accompanied by Renata Hasle, the Growth Strategist at One by One, Ms. Habiba Mohamed, a community anti-fistula activist and a director of Wadadia, a civil society organization, and Mr. Jared Momanyi with GynoCare, a clinic based in Eldoret that has treated more than 800 obstetric fistula patients since 2003. "Our target is to treat 350 more cases by the end of this year," said Mr. Momanyi.