Senior management from UNFPA and Pathfinder International hold high level talks on how similar programs implemented by the two organizations can be jointly enhanced to increase impact on Kenyans
Pathfinder International Senior Vice President Caroline Crosbie today expressed interest in collaborating with UNFPA in areas where it shares common goals with UNFPA. Ms. Crosbie said this at a meeting with UNFPA Kenya Representative, Dr. Benjamin O. Alli, on Friday. Ms. Crosbie was accompanied by Mr. Peter Eerens (Pathfinder's Country Representative Kenya) and Ms. Pamela Onduso (Pathfinder's Youth Advocacy and Partnership Technical Advisor).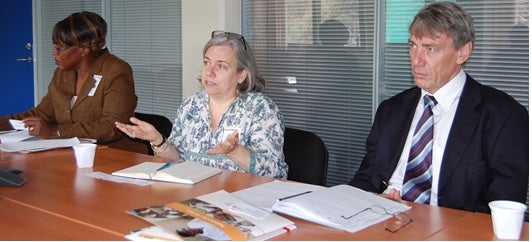 On youth programming, Pathfinder's goal is to ensure young people have access to quality services that are tailored to effectively meet the diverse needs of adolescents and youth across countries and cultural contexts. Currently, Pathfinder is implementing a program in Kilifi District whose objective is to create demand for sexual and reproductive health services provided through the youth friendly services (YFS). One of the facilities included in this program is the UNFPA supported YFS center in Mtwapa.  
Under the maternal and newborn health program, Pathfinder is focused on improving Kenya's health status by supporting government health entities and communities to integrate and strengthen HIV, family planning and maternal and child health services. These programs promote contraception, train midwives and skilled birth attendants, and enhance emergency obstetric care with the goal of reducing maternal and newborn morbidity and mortality. It also ensures that mothers and their newborns have access to help and information at every point during pregnancy and childbirth. In Kilifi District, Pathfinder is currently supporting the community strategy by training community health workers.
Pathfinder has supported reproductive health and family planning work in Kenya since 1969. By working closely with non-governmental and community-based organizations, government agencies, and public and private sector institutions, Pathfinder has reached some of Kenya's poorest communities with reproductive health information and services, including contraceptives and counseling in maternal and child health care. Currently, Pathfinder's main work revolves around advocating for access to contraceptives by young people.
Pathfinder is guided by the belief that access to abortion services is not only a public health imperative, but every woman's right. In Kenya, therefore, Pathfinder helps ensure the availability of post-abortion care.
Recently, Pathfinder introduced the m-Health initiative in Nairobi, through which information can be passed on to the community on various aspects of health.  UNFPA reported that this was an emerging area within the organization and that the Kenya Country Office has plans to convene similar technology and innovation that will enable stakeholders share important information.
As an active member of the Population, Health and Environment (PHE) stakeholder's forum convened by National Council for Population and Development (NCPD), Pathfinder International is working with OSIENALA (Friends of Lake Victoria) to implement an integrated project in Kenya and Uganda. The project aims to reduce threats to biodiversity conservation and ecosystem degradation in the Lake Victoria Basin while simultaneously increasing access to family planning and sexual and reproductive health to improve maternal and child health in project communities. 
At the conclusion of the meeting, UNFPA and Pathfinder International agreed to pursue collaborative efforts especially in the area of youth programming.