The United Kingdom continues to be a strong voice for the advancement of human rights, including through support to UNFPA in promoting sexual and reproductive health rights for women and girls in the global south and across the globe. The UK International Ambassador for Human Rights, H.E Ms. Rita French visited UNFPA projects in Kenya to gain a better understanding of the progress, challenges, and good practices in enhancing access to family planning, ending teenage pregnancy, and eliminating harmful practices such as female genital mutilation and child marriage. 
"If we believe in advancing the rights of women and girls, we must be ready to remove barriers to their wellbeing and empower them to make decisions about their bodies and lives. This is why issues such as family planning, sexual and reproductive health rights, and girls' education remain a priority for the UK government," said Ms. French. During her visit to Kenya, the Ambassador met with government officials, health workers, local NGOs, and community-based organizations working with UNFPA. The stakeholders provided insights on gender equality, reproductive health access, as well the cultural and social norms that impact the realization of women and girls' rights at a community and national level.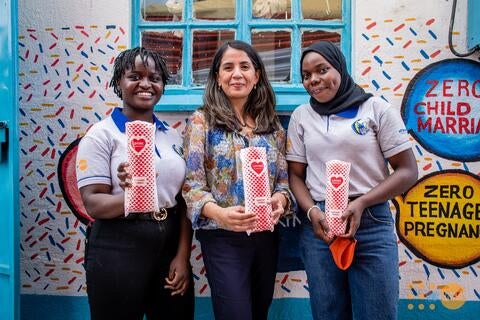 While on a tour of Polycom Development Project, an organization working with adolescent girls in Nairobi's largest informal settlement, Kibera, Ambassador French met teen mum Mary* who after giving birth to her son had to overcome many challenges to return to school. "During the Covid-19 lockdown, schools were closed and I found myself in a difficult situation after my mum kicked me out of home one night. My neighbor, an older man, befriended me and promised to help, and that's how I found myself pregnant at sixteen," shared Mary. With support from UNFPA, Polycom provides girls such as Mary with the support needed to return to school as well as personal mentorship and livelihood skills to ensure better outcomes for their health, education, and general well-being.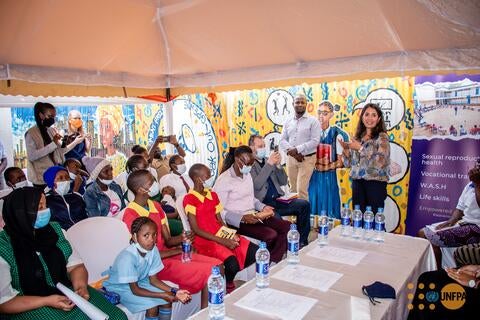 Serving over one million Kenyans, Mbagathi hospital is one of Nairobi's busiest facilities with a fully-fledged maternal and child health unit offering family planning, ante-natal, and post-natal services. The hospital is amongst 1,000 facilities in the country that have adopted the use of Qualipharm, a digital tool used for tracking and reporting on consumption and stock status of family planning commodities at health facilities. Pharmacists at the facility showcased how they use the tool to report on family planning supplies available, helping to avert stockouts and improving women's access to modern contraceptives of their choice.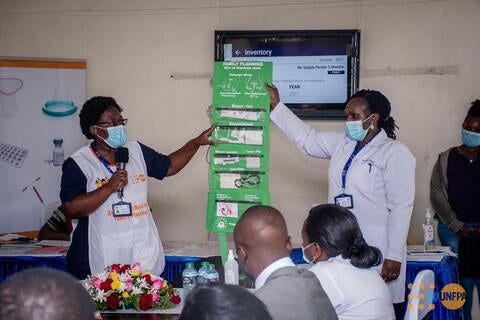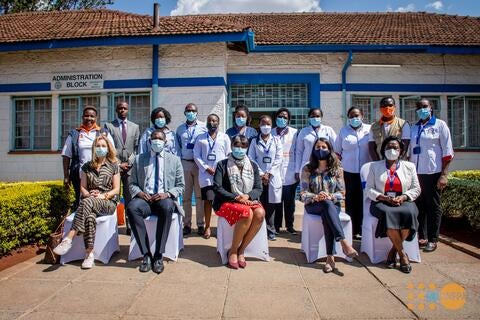 Photos: (Top-Bottom) Health workers at Mbagathi Hospital demonstrate the use of Qualipharm at a meeting with Ambassador Rita French; A group photo with Mbagathi Hospital staff, Chief Administrative Secretary Ministry of Health, Dr. Mercy Mwangangi (center), and the UNFPA team. UNFPA/Mukiza Mwenesi
Qualipharm was developed with support from UNFPA to address various gaps in the family planning supply chain by improving the quality of data reported for decision making. "As a medical doctor I can say that the value brought on by this tool is immeasurable," said Chief Administrative Secretary in the Ministry of Health, Dr. Mercy Mwangangi. "This need has been clear over time, especially in remote facilities where health workers have to travel long distances to submit data, leaving women and other health seekers without service," she said.
Ambassador French also traveled to Kajiado County, one of Kenya's FGM hotspot, where she met with county officers, reformed circumcisors, FGM survivors, male champions and youth working to change social and cultural norms and end FGM for good. At a community dialogue organized by Illaramatak Community Concerns (ICC), members of the Maasai community spoke about community-led initiatives that are helping drive down the high rate of FGM cases within the community. "When the anti-FGM act was passed in 2011, women from the Maa community protested as they were not consulted. They felt that the law was interfering with their culture," said ICC Founder Agnes Leina. UNFPA has been supporting community-based organizations through World Vision Kenya, to carry out community dialogues and awareness campaigns aimed at changing attitudes and raising awareness on the need to eliminate FGM.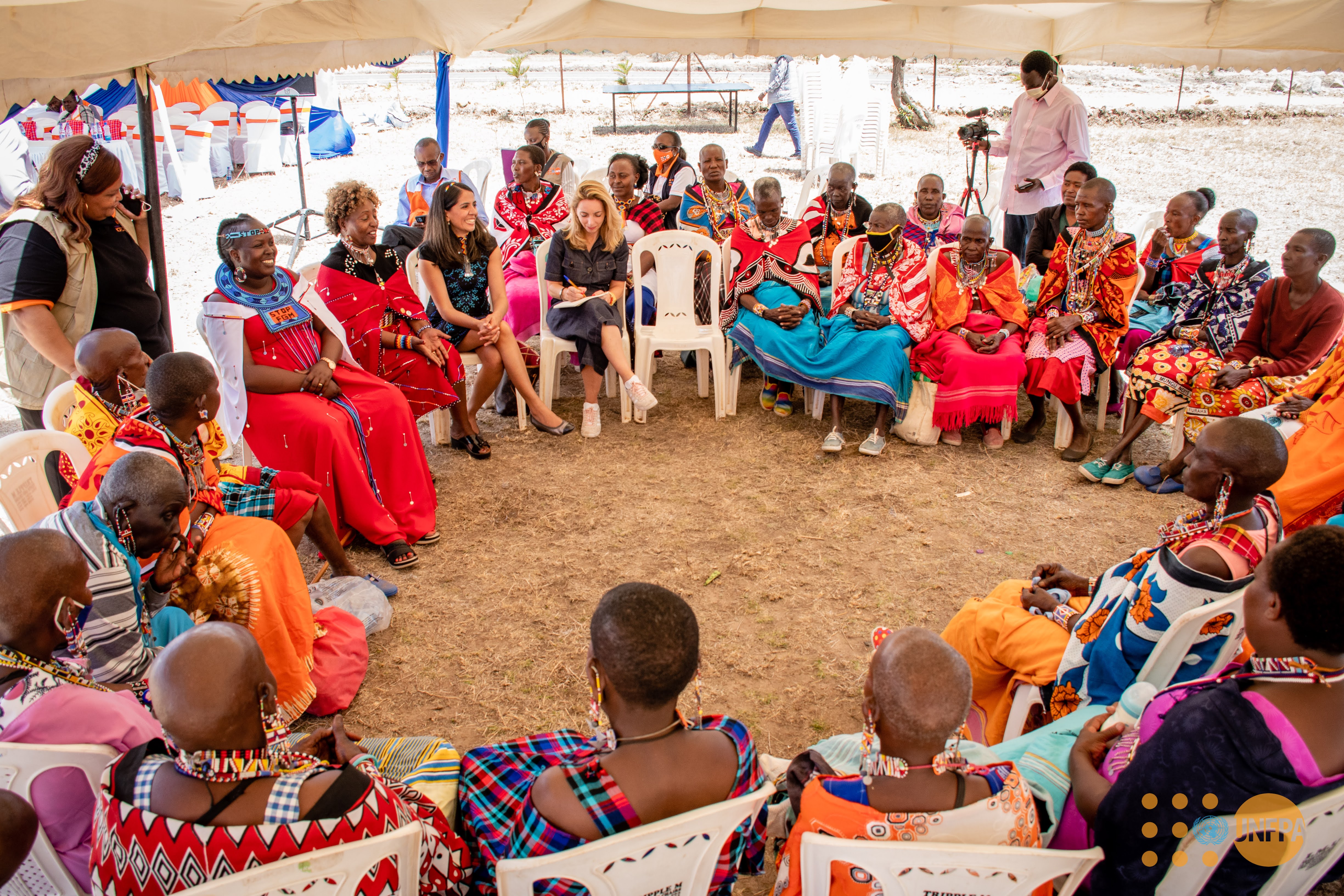 "For a long time, we experienced challenges with our reproductive health, but we could not link it to FGM," said reformed circumciser Margaret. "We circumcised girls for money, but now we are more informed and have decided to down our tools and take up other economic activities."  An intergenerational mix of male champions also told Ambassador French of their commitment to ending FGM after learning of its impact on women and girls' health. "As young Morans, we are challenging the older generation and telling them that cutting girls will not make us marry them," said 27 year old Melvin Polonet. This is forcing the community to rethink FGM and embrace alternative rites of passage.
 
"FGM remains one of the biggest violations of human rights, but I leave Kenya today feeling really positive about the future of women and girls in this community particularly because of the support that men, both young and old, have shown towards eliminating the practice amongst the Maasai," said Ambassador French.