Sitting behind her desk at the  Illaramatak Community Concern (ICC) offices in Kajiado county, 23 year old Rose Masaruan is a vision of the ultimate professional as she goes over the organization's books of accounts. Her journey to a career as an accountant came with many challenges, but she is happy to be living her dream after surviving FGM and escaping early marriage at the age of thirteen. 
"In 2011, a team from ICC visited my school in Laikipia County to sensitize young girls on  how to avoid FGM and child marriage. At that point, I had already gone through FGM, but I was determined not to be a child bride," she says. Rose knew that her father had plans to marry her off once she completed her primary school education. "My dad was willing to educate me, but he had no money to pay for my school fees. He planned to marry me off as the eldest so he could get the finances to educate my siblings."  After sitting for her final primary school exams, Rose made the brave decision to call ICC Founder Agnes Leina whom she had met during the anti-FGM session and asked to be rescued from child marriage. 
A team from ICC responded, and Rose was able to leave her home in Laikipia to be enrolled at a high school located more than eight hours away in Kajiado county. She recently graduated with a Bachelor of Commerce in finance and has been working at ICC as the finance officer. "I love my work and the opportunity it gives me to give back to society by helping eradicate FGM," she says.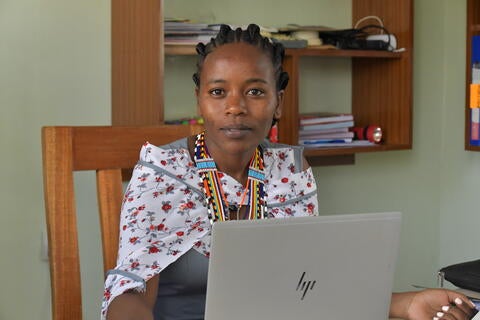 Rose was also able to go back home, and has rebuilt her relationship with her father and family. "My father is proud of what I have accomplished professionally. I am also able to send contributions back home to educate my siblings, helping alleviate the financial burden that was the main reason he wanted to marry me off. He now understands that educating a girl has a greater impact on the family," she says. Because of this, all of Rose's three younger sisters are currently enrolled in school, filled with hope for a bright future.
Rose believes that custodians of culture including community chiefs and leaders of the various age sets are key to overcoming community resistance to the abandonment of harmful cultural practices such as FGM. "I also have great hope in the youth's ability to deliver the next generation that is free from FGM. We are the game changers because we have more information than our forefathers and can use it to save young girls from the cut," she says.
Through a partnership with World Vision Kenya, UNFPA supports community-based organizations such as Illaramatak Community Concern to drive advocacy and awareness efforts to end FGM at a grassroots level.