In April 2021, a group of 20 women gathered for a training on soap making at a community hall in Kibera with hopes of gaining a skill that would help them earn an income. It was at the height of the Covid-19 pandemic, and many had lost their jobs as the country underwent a lockdown to prevent the spread of the virus.15 of the women were survivors of gender-based violence looking to rebuild their confidence and help other women and girls in their community live a life free of violence.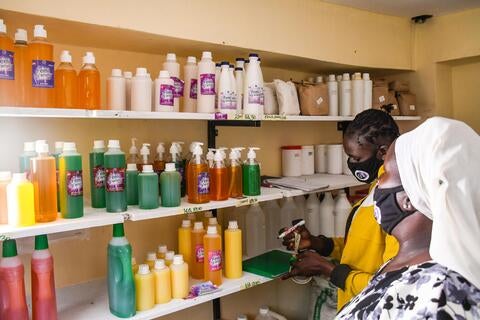 With a $10,000 donation from Japanese Company Meiji Holdings co., and technical support from UNFPA, the women launched a new detergent brand called "Feming'arisha" and trained an additional 131 women within Kibera informal settlement on soap making as well as gender-based violence prevention and response. The project was implemented by the Feminist Peace Rights and Justice Centre (FPRJC), a community-based organization that operates in Kibera, with technical assistance from the African Gender and Media Initiative Trust (GEM). Newly acquired marketing and financial literacy skills helped the women establish a shop in Kibera where they sell the Feming'arisha line of soap products.
The success of the project led to an additional $15,000 donation from Meiji Holdings. With this new funding, FPRJC has initiated the second phase of the project to equip more women in Kibera with income-generating skills and training on prevention of sexual and gender-based violence. The FPRJC team has also embarked on renovating the Feming'arisha store as well as improving on the branding and packaging of the Feming'arisha line of products to make them more appealing to the mass market. 
We are confident that we can build on this to have more women and perhaps even more store locations that will also serve as information and referral points for survivors of gender-based violence
In order to expand reach within Kibera, FPRJC is working with like-minded community-based organizations, health volunteers, and mobilisers to identify survivors of gender-based violence and at-risk women who will benefit from the training. Among participants in the new phase is Winnie Mwanzia, a program assistant with Wasanii Sanaa, a youth-led organization advocating on social issues in Kibera. "Poverty and gender-based violence are some of the most widespread problems affecting our community today. The training offered through this project has the potential to change the lives of many young women who are part of our network," she says.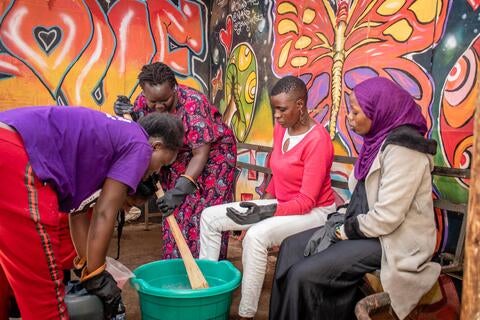 Part of the funding in this new phase will also go towards improvements at the GBV rescue shelter operated by FPRJC, to ensure that survivors seeking help from the shelter have the basic supplies and amenities needed during their stay. 
"The impact of the project has been significant as it has empowered more than 200 women economically and turned them into champions raising awareness against gender-based violence in the community," says  FPRJC founder Editar Ochieng.
"We are confident that we can build on this to have more women and perhaps even more store locations that will also serve as information and referral points for survivors of gender-based violence."