UNFPA, the United Nations Population Fund in collaboration with Philips, the Dutch health technology company and the County Government of Mandera inaugurated the first Mandera Community Life Center (CLC) in Dandu.
The CLC aims to deliver crucial primary health care and enhance community development in Mandera County by providing the local community with modern, integrated high quality health services for maternal and child health.
In addition, the center will offer the community energy supply, employment opportunities, and going forward, the potential to develop commercial activities. It will also act as a secure social activity hub within reach of around 40,000 people.
The technologies available in the CLC have been developed to ensure they address local needs and can function under the challenging local circumstances
"The inauguration of the CLC in Mandera is an important milestone in finding new ways for significantly advancing maternal and newborn health outcomes in the 6 counties[2] in Kenya, which contributes close to 50% of all maternal deaths in the country," said Dr. Ademola Olajide, UNFPA Country Representative to Kenya.
Dr. Olajide further added that UNFPA and partners are looking forward to continuing learning from the center's operations and seeing how it will contribute to improvement in the lives and well-being of the community.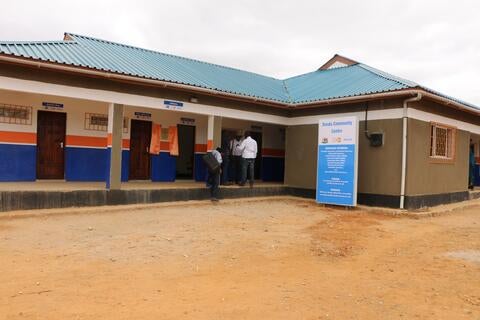 On his part, Mr Jasper Westerink, CEO of Philips Africa indicated that the healthcare challenges in Mandera are hugely concerning; and they are a reflection of the issues and realities faced by millions of individuals in Sub-Saharan Africa. "Philips has been dedicated to advancing primary health care in Africa for many years, with a strong focus on mother and child care. Through the CLC platform, we have introduced a new value delivery model. Our ambition is to introduce this model throughout Africa to drastically improve access to primary care," he added.
Kenya has made steady progress in improving reproductive, maternal and newborn health outcomes in the last decade. The recent 2014 Kenya Demographic Health Survey shows that maternal mortality ratio dropped from 488 / 100,000 live births in 2009 to 362 / 100,000 live births in 2014.
In addition, child mortality has declined by over 20 percent since 2008 and the country achieved a total fertility rate of 3.9 (KDHS 2014). However, huge disparities exist with counties like Mandera reporting high total fertility rate. In Mandera, for instance, maternal mortality ratio was 3,795 maternal deaths per 100,000 live births in 2014.  
Partnerships
UNFPA is expanding the scope of its work by partnering with civil society, academic institutions and the private sector.  In Kenya, UNFPA works with Government institutions such as the National Council for Population and Development (NCPD), Ministry of Health and the County Governments to support the formulation of RMNCAH policy, strategy, roadmaps and action plans. UNFPA also supports the County Governments in strengthening their County Health Systems, with a particular focus on RMNAH.
The CLC is an important milestone for partners under the Private Sector Health Partnership Kenya. Through this joint-Every-Women-Every-Child-commitment, Safaricom, Huawei, Philips, MSD, GSK and KHF pledged support to complement ongoing efforts of UNFPA to significantly improve maternal health in the 6 counties (Migori, Mandera, Marsabit, Wajir, Isiolo, Lamu) and improve by 2020 the health and well-being of over 3.5 million people in these counties.
This ground-breaking initiative will harness the talent, expertise and resources of the private sector, in close collaboration with the Government of Kenya, the County Governments of the 6 Counties and other partners.
Through its collective action partners will help build models that offer the best of both public and private sector, with the potential for scaling-up the delivery of health care for vulnerable and poor populations in low-resource settings, not only in Kenya but all over the world.
It is, therefore, UNFPA's aim that the CLC platform will improve primary health and community well-being across Africa, by extending new or existing health facilities into social and economic community hubs, using exciting innovative and sustainable programs, technologies and services.
"Our partnership with Philips and UNFPA comes at a time when the County has a high incidence of maternal and newborn mortality resulting from preventable causes and lack of medical facilities", said H.E. Ali Roba, Governor of Mandera County.
"This cooperation is reflective of the kind of partnerships we seek to participate in with the private sector and the UN that results in uplifting the lives of our communities," stated the governor.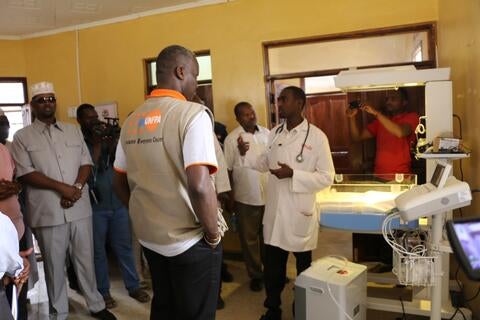 Dr. Olajide, UNFPA Country Representative to Kenya indicated that "UNFPA's sole responsibility and mission is to ensure that each and every woman choose when they want to be pregnant, are able to get services when they are pregnant and are able to deliver children safely."
On her part, Ms Gina Din, UNFPA Honorary Ambassador to Kenya, added:
"I am proud to be part of Team UNFPA Kenya and grateful for the support of all its partners. The Mandera Community Life Centre demonstrates that even in the most difficult circumstances we can find ways to leave no women nor girl behind".