Kenya's president Uhuru Kenyatta has unveiled a new plan aimed at accelerating progress towards gender equality and ending gender based violence in Kenya by 2026.  The policy brief titled "Kenya's Roadmap to advancing gender equality, ending all forms of gender-based violence and female genital mutilation by 2026," was presented during an event to mark the national launch of the Generation Equality campaign, as the country prepares to take part in the global Generation Equality Forum to be held in Paris.
The commitments include an increase in funding for gender based violence prevention and response through the allocation of US$ 23 million by 2022, with plans to progressively increase  the amount to US$ 50 million by 2026. The roadmap also outlines measures to strengthen research and innovation for evidence-based policy formulation and programming on GBV and FGM. The 2022 Kenya Demographic Health Survey will feature a module on gender-based violence that will inform the development of a national GBV management and information system.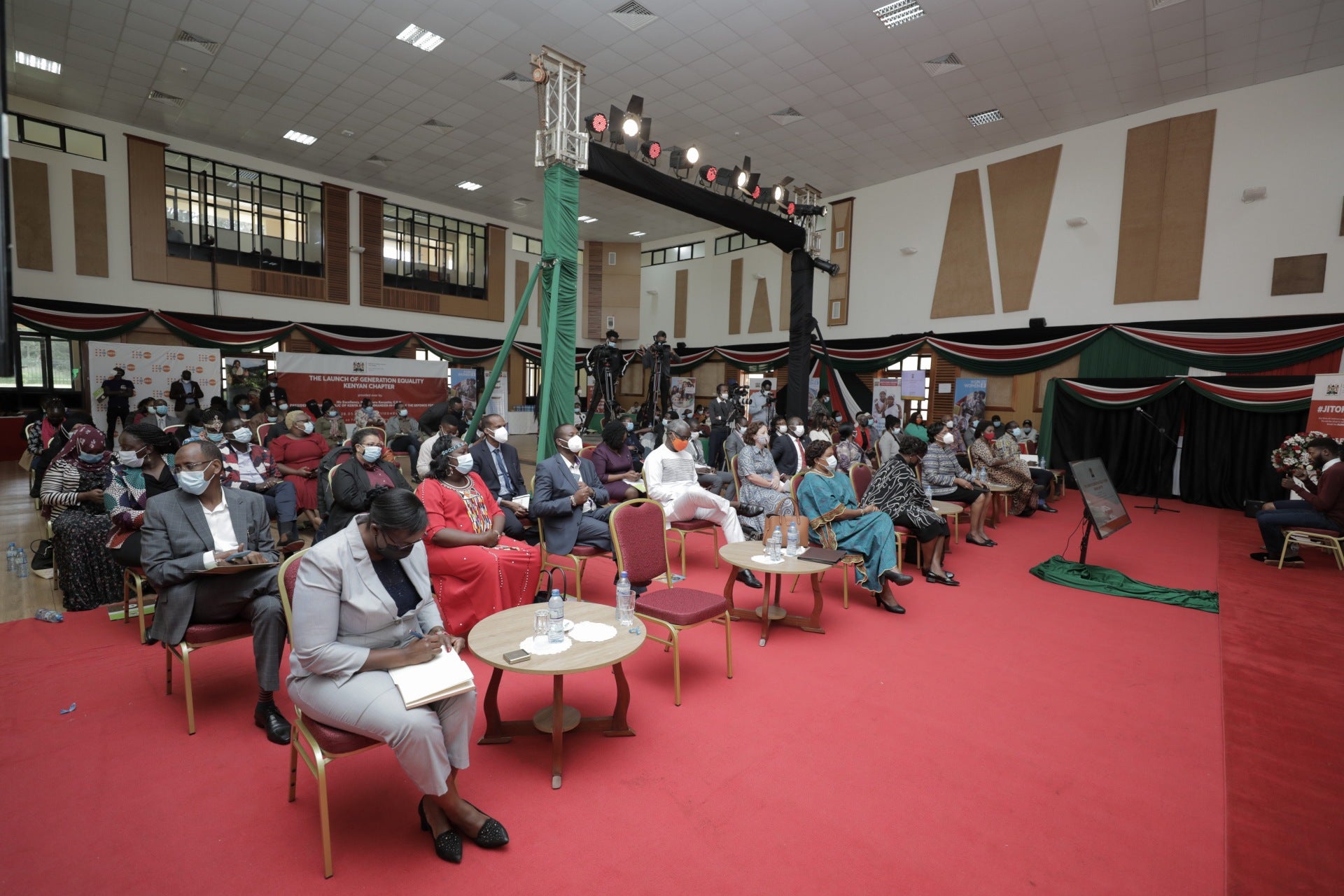 Services to GBV survivors will be enhanced and scaled up through the integration of  medical, legal, and psychological support services into the universal health coverage package by 2022. GBV recovery centers and shelters will also be established in all 47 counties by 2026. President Kenyatta also announced that the government will ratify and implement the International Labour Organisation (ILO) Convention 190 on eliminating Gender-Based Violence (GBV), and harassment in the workplace by 2026.
"We will continue to use our leadership as the chairperson of the East African Community and chair of the African Union Peace and Security Council to galvanize political commitment from African Union Member States to safeguard women and girls from gender-based violence," said President Kenyatta. 
United Nations Resident Coordinator in Kenya Dr Stephen Jackson commended Kenya's leadership for efforts made to empower, engage, and promote women. "We simply will not reach sustainable development unless women achieve their full rights and enjoy the space to contribute their vision, perspective, energy and expertise," he said. 
A study conducted by the National Crime and Research Centre on gender-based violence in the country revealed that GBV cases had increased by 92% in 2020, as compared to the previous year. Globally, at least 1 in 5 women experiences gender-based violence, most often from someone who is close to them.
We simply will not reach sustainable development unless women achieve their full rights and enjoy the space to contribute their vision, perspective, energy and expertise
The Generation Equality Forum is a global gathering to accelerate equality, leadership and opportunity for women and girls worldwide, convened by UN Women, Mexico and France. he Forum takes place in Paris, France, on 30 June – 2 July 2021. In addition to spurring a bold new agenda with financial and political commitments for gender equality, the Forum will launch six "action coalitions". Kenya joins the UK,  Iceland and Uruguay  in leading the Generation Equality Action Coalition to end gender based violence. 
UNFPA will co-lead the Action Coalition for Bodily Autonomy and Sexual and Reproductive Health and Rights, along with Argentina, Burkina Faso, Denmark, France,  North Macedonia and other partners. As co-leaders, UNFPA will champion  issues such as upholding the right to sexual and reproductive health and care including family planning, advocating for safe birth and maternal health, eradicating gender-based violence and harmful practices and endorsing comprehensive sexuality education.