After more than two decades of suffering in silence, 52-year-old Gladys Nasiembe was finally able to put a name to her ailment when she heard a radio announcement about a fistula treatment camp organized with support from UNFPA. "I started to leak urine two weeks after birthing my daughter in a difficult home delivery back in 1995. When the radio announcer described fistula symptoms, I knew right away that I was living with the condition, which has caused me great discomfort and embarrassment," she says. 
Nasiembe was scheduled for fistula repair surgery in early 2020, but this had to be rescheduled as healthcare facilities shifted focus towards the Covid-19 response. More than a year later, she was able to undergo surgery at the Webuye County hospital during a fistula camp organized by Amref Health Africa in partnership with UNFPA, Flying Doctors Society of Africa, M-PESA Foundation, and the Office of the Bungoma County First Lady.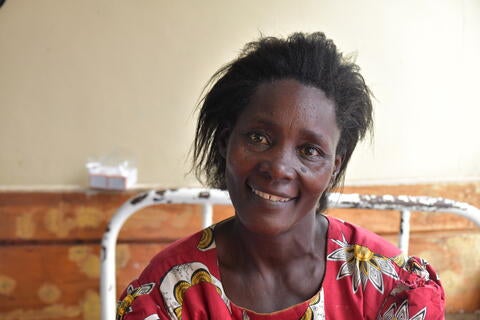 Sixty-five women, including Ms. Nasiembe, received free fistula repair surgery during the five-day camp held in October 2021. "This year's camp has been our busiest. We attended to 595 women at various screening centers. Many of those suffering from obstetric fistula are women from remote and marginalized communities, who underwent home deliveries without the help of a skilled birth attendant," says Webuye County Hospital reproductive health clinician, Ms. Fatma Seif. 
Data from the Ministry of Health shows that more than 1,000 new cases of female genital fistula are recorded in Kenya every year. Obstetric fistula occurs mostly among the poorest and most marginalized women and girls, especially those living far from medical services and those for whom services are not accessible, affordable, or acceptable. This was the case for 30-year-old Caroline Naliaka. "I gave birth to my son at home with no one to help because I had no money to travel to hospital. The labor was difficult and I began leaking feces shortly after, which left me unable to work or socialize as I used to." After undergoing fistula surgery at the camp, Ms. Naliaka is looking forward to going back home feeling much better.  
The Covid-19 pandemic and the resulting lockdowns heightened the plight of fistula patients who often face barriers in accessing treatment. "Many outreach programmes that offer support to fistula patients were halted during the pandemic. Travel restrictions and the fear of contracting Covid-19 at the hospital also led to more home births which ultimately increased the incidences of maternal morbidities such as fistula," says fistula surgeon, Dr. Anthony Wanjala. This has increased the backlog of those living with untreated fistula in the country.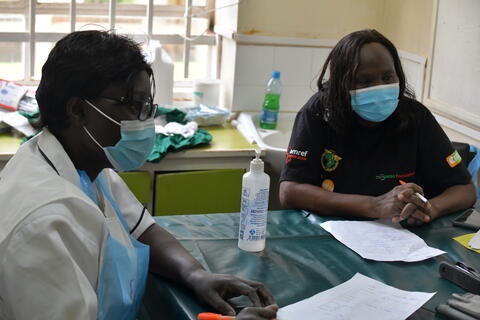 Fistula occurs when a hole develops between the birth canal and the bladder or rectum, which leaves a woman incontinent and unable to control their urine or feces. It is often caused by prolonged and obstructed labor in the absence of medical care. "The overwhelming turnout at this year's fistula camp shows that more investments are needed in maternal and reproductive health to ensure that women do not suffer needlessly in childbirth," said Bungoma County First Lady, Caroline Wangamati.
"Fistula repair is about restoring the dignity of women so that they can lead productive lives free from stigma and shame," says UNFPA representative Dr. Ademola Olajide. More than 1,400 women across Kenya have benefitted from free fistula treatment offered with support from UNFPA. "UNFPA will continue to support the provision of medical supplies, training, and capacity building as well as funds for fistula prevention and treatment with the goal of eradicating fistula in Kenya," he added.