A new handbook designed to equip adolescents and youth with intellectual disabilities with life skills is making sexual and reproductive health and rights education more accessible among this often excluded population. Titled  "My Good Future," the handbook contains information presented in an easy-to-read format with illustrations to guide users on various topics including menstrual hygiene, prevention of STIs and HIV/AIDS, and sexual and gender-based violence risks. The youth handbook and accompanying facilitators' training manual were developed by Special Olympics Kenya by adapting learning modules from the comprehensive sexuality education (CSE) manual for out-of-school youth in East and Southern Africa developed by UNFPA.
At the Mathare Special training center, a vocational school for students with mild to severe intellectual disabilities, teachers have embraced the "My Good Future," handbook and manual to conduct weekly learning sessions on life skills. "Most of our students are aged between 14 and 22 years, a period which presents itself with many growth challenges. Their bodies are changing, and some of them are experiencing attraction to the opposite sex for the first time," says teacher Mildred Kerubo. The training helps young people with intellectual disabilities learn about how their bodies function, and how to deal with sexual and reproductive changes, feelings, and behaviors.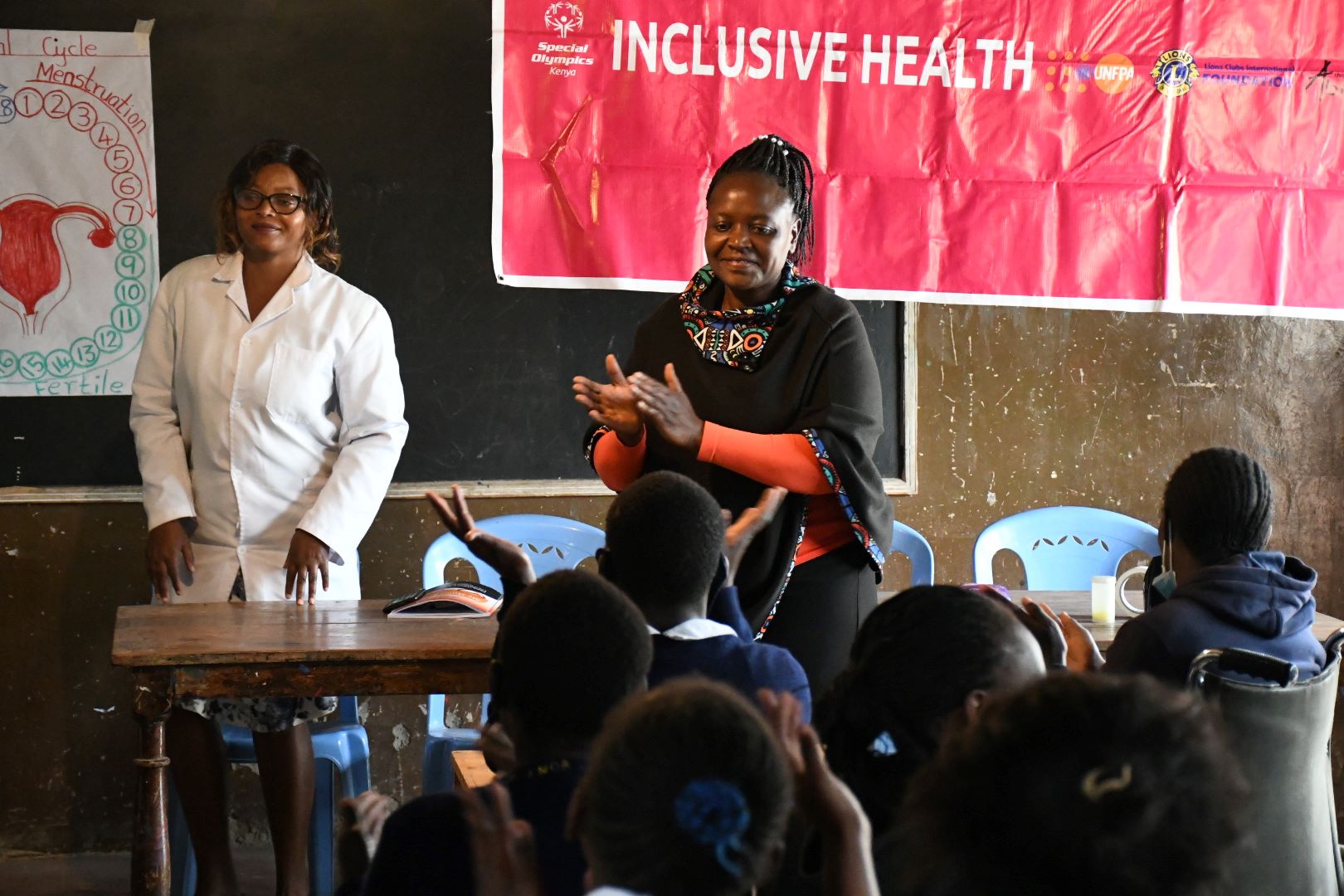 The impact of the handbook and training is evident among students at the center. 15-year-old Cynthia Njeri loves attending the weekly sessions and has picked up a lot of information which she proudly recites. "We learn about the private parts of our bodies, and that no one should touch them without our permission," she says. "Also as girls, we should celebrate when we get our periods. You should change your sanitary pad and shower regularly."  
For persons with intellectual disabilities, access to sexual and reproductive health information and services is mostly hindered by stigma and social exclusion. In addition, individuals with intellectual disabilities may find it difficult to remember new and complex reproductive health information. "By using clear and straightforward language as well as pictures to highlight concepts, we are providing ways for teachers and guardians to impart this knowledge in a manner that makes it easy for learners with intellectual disabilities to follow along. Each learner gets to keep their handbook and interact with it often so as to remember what they have been taught," says Special Olympics sexual and reproductive health project officer, Sarah Maranga.
Research by UNFPA shows that persons with disabilities below the age of 18 years are almost four times more likely than their peers without disabilities to be victims of violence and abuse. Young persons with intellectual disabilities, especially girls, are at the greatest risk. "One of the topics covered extensively in our sessions is the aspect of human rights, and how to stay safe as a person with an intellectual disability. We teach both boys and girls about gender-based and sexual violence, how to know when it is happening, and also ways to raise the alarm so you can get help," says teacher Kerubo.
"When you have a boyfriend or a girlfriend, they should not hit you or call you names, and when someone tries to touch your private parts, you should report it to the teacher and to the police because this is wrong," says 16 year old Joel Njengu. A carpentry student at the Mathare special training center, Joel is determined to have his own business and one day have a family. "We have a right to get married and to have a good life because we are just like anyone else," he says.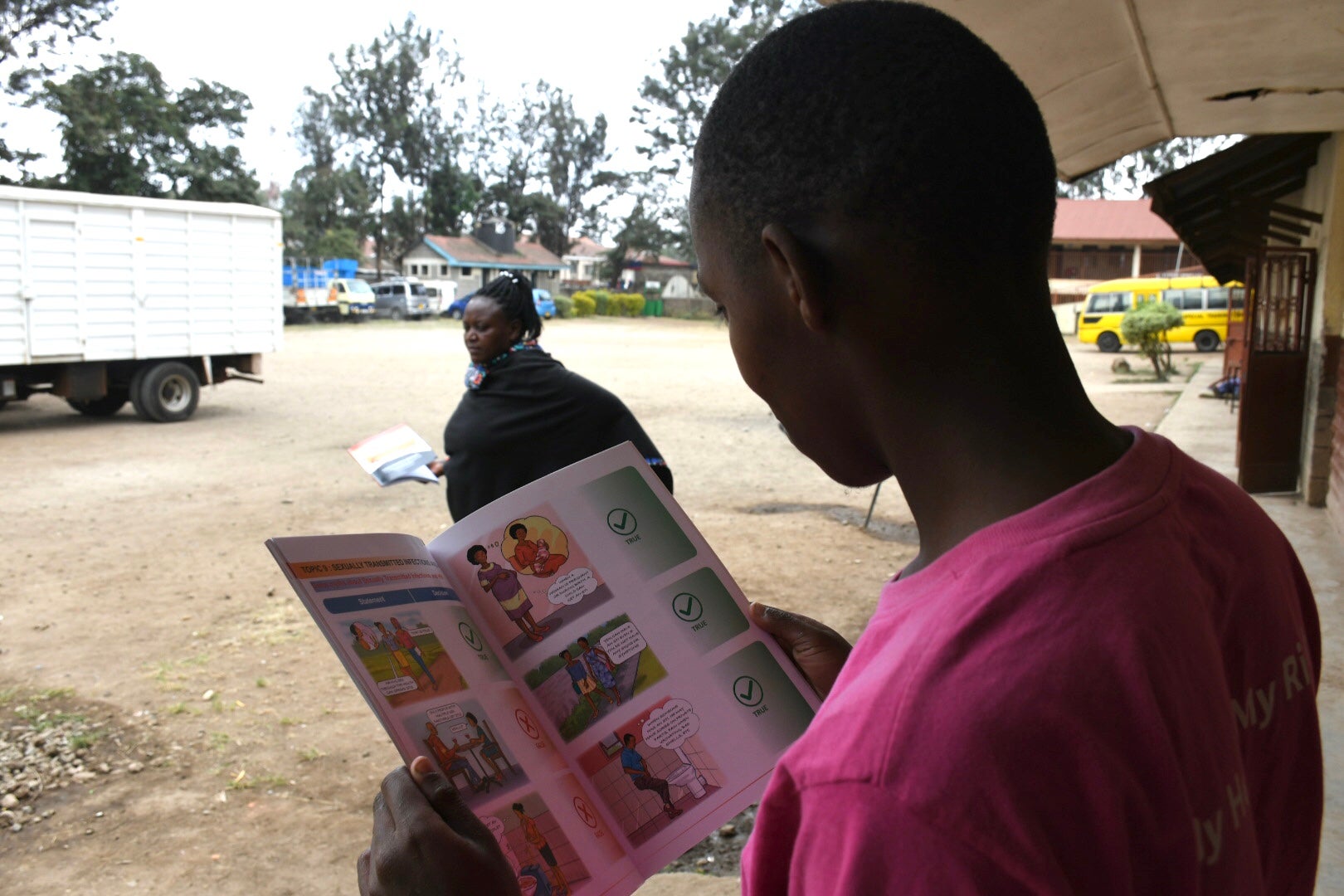 The ICPD Programme of Action calls for the elimination of discrimination against persons with disabilities with regard to sexual and reproductive health and rights. Advancing the sexual and reproductive health and rights of persons with intellectual disabilities is also central to achieving universal health coverage, as envisioned in Kenya's development agenda. "UNFPA is proud to have supported the development of the handbook and training manuals that will most certainly drive the inclusion of young people with intellectual disabilities in accessing sexual and reproductive health services," says UNFPA HIV and Disability Inclusion Program Analyst, Lilian Langat. 
With the help of the "My good future" handbook, Joel, Cynthia, and many other young people with intellectual disabilities are gaining the information they need to make informed choices that will lead to the future of their dreams.  "I want to have two or three children in the future, but right now I want to finish school so I can have a job," says Joel.