In Ganze,  Kilifi county, communities have experienced a significant rainfall deficit over the last 3 years, causing a food and water crisis that has disproportionately affected women and girls with disabilities. The county is among 23 Arid and Semi-Arid Counties in Kenya that are currently facing a severe drought. "For many women with disabilities, the drought has created new hardships such as a loss of income and disruption to reproductive healthcare," says ThisAbility Trust project Manager Maria Rosa Cevallos.  
Similarly, in Kajiado County, women with physical disabilities have to travel longer distances and face long queues in search of water. Many have been separated from their husbands who have left home in search of pasture for their cattle, leaving them without carers, and with little support from the community.
UNFPA is supporting ThisAbility Trust to reach women and girls with disabilities living in drought-affected counties with reproductive health and protection interventions. This includes the provision of dignity kits that contain essential supplies to meet the basic hygiene needs of women and girls of reproductive age.. The dignity kits distribution exercise also offers a vital opportunity to interact with women and girls with disabilities to assess their well-being and raise awareness of other reproductive health services and psychosocial support available.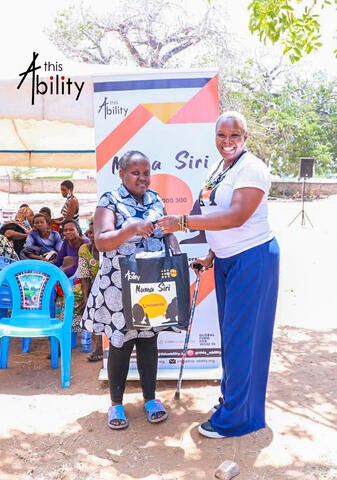 Psychosocial support is offered through programs such as Mama Siri, a toll-free tele-counseling service that offers information and referral services for women with disabilities. Mama Siri representatives in the drought-affected counties also hold regular community meetings to offer mental health support, sexual and reproductive, and gender-based violence referrals to women with disabilities. The service was launched by ThisAbility Trust in response to the Covid-19 pandemic, and is managed by women with disabilities who understand the experiences and challenges faced by their community.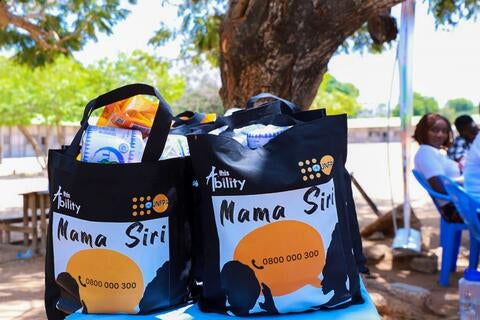 According to the 2019 National Census, 2.5% of women in Kenya are living with a disability. Their needs are often overlooked or neglected, which leaves persons with disabilities among the most marginalized groups when it comes to sexual and reproductive health services. "The drought situation has amplified the marginalization of persons with disabilities, and serves to highlight the importance of incorporating disability issues in all policies and programmes, including those in humanitarian and emergency situations," says UNFPA HIV and Disability Program Analyst, Lilian Langat.
ThisAbility Trust has also introduced eco-friendly dry toilets that use sawdust instead of water, which are installed in close proximity to homes so as to improve access to sanitation, particularly for women with difficulty seeing or walking.  "Not having access to clean and safe toilet facilities usually means girls and women with disabilities have to make unsafe trips, sometimes in the dark to attend to their sanitation needs," says Ms. Cevallos. "The eco-toilets help reduce their vulnerability to violence and are hygienic to use during periods of water scarcity such as the current drought."