Two years after opening its doors to the community at the Kalobeyei Integrated Settlement, the gender-based violence (GBV) Recovery Center established at the Kalobeyei Hospital remains a boon for survivors. Established with support from the Government of Japan and UNFPA and run by the Kenya Red Cross, the Centre is a critical point of service in prevention and response to gender-based violence for the refugee and host communities. At the height of the Covid-19 pandemic, a spike in defilement cases reported at the Centre demonstrated the increased vulnerability of girls to various forms of violence as Covid-19 restriction measures such as school closures took effect.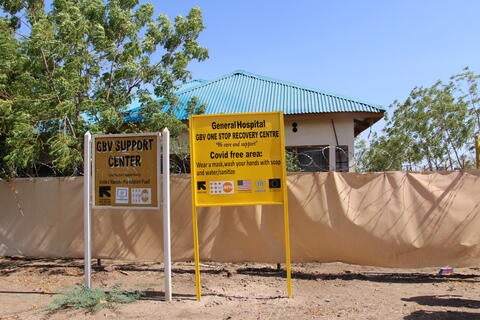 A similar GBV Recovery Centre established with support from UNFPA and the Government of Japan at the Kakuma General Hospital managed by the International Rescue Committee (IRC) provides a safe space for adolescent girls to converge and engage in group activities such as music and life skills training. "Before the pandemic, more than twenty girls would meet weekly at the centre for activities. The space was also open to them at any time if they needed to talk to someone or rest" says IRC Field Coordinator, Gladys Muiga. 
With the easement of Covid-19 containment measures, a return to school has enabled the introduction of new initiatives such as "Play2Protect", a project that harnesses the power of sport in strengthening the protection, development, and empowerment of young women and girls living in the Kakuma Refugee Camp and Kalobeyei Integrated Settlement. With support from the Olympic Refuge Foundation, UNFPA partnered with the Kenya Red Cross, Danish Refugee Council, IRC, and Nailab to launch the project which encourages girls' participation in sports activities while using sports as a tool to address GBV in the community.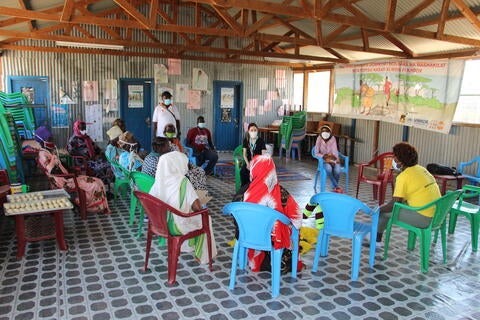 At the Morning Star Primary School in Kalobeyei Settlement, the head teacher, Anthony Wafula, credits the Play2Protect project with helping to address teenage pregnancy which has been an issue of concern. "Taking part in sports activities keeps the girls occupied and protected as they spend time with coaches and mentors who talk to them about GBV prevention and how to get help when faced with issues such as abuse and teen pregnancy," he says. The school, which has a student population of 2,000 has been organizing sports activities with the support of the Kenya Red Cross where girls get to showcase their sports talent alongside boys taking part in the tournaments.
The sporting events serve as a platform for community engagement on ending gender-based violence and changing socio-cultural beliefs and attitudes that drive harmful practices such as child marriage. So far, more than 1,968 adolescents and youth have been reached with information on GBV prevention through sports activities and community sensitization events under the Play2Protect project.
Grace Machii, 16, is the captain of the girls' football team at the school. Her family fled to the Kalobeyei Settlement from South Sudan to escape conflict in their home village. "Playing with my team after school is something that I really enjoy, and I try to encourage other girls to take up sports for fun and to help cope with the stress that may come in life," she says. "I am also learning a lot from the facilitators about how to take care of myself as a girl, and how to avoid things such as child marriage and teenage pregnancy."  
The Kakuma Refugee Camp and Kalobeyei Integrated Settlement host more than 220,000 refugees and asylum seekers, with more than 50% being women and girls. "The Play2Protect project leverages on the power of sport to create an environment where girls, boys, women, and men have safe spaces to share their experiences and work together in the fight against GBV," says UNFPA Humanitarian Specialist, John Wafula.