Kenya's general elections held on 9th August 2022 resulted in a record seven women being elected into gubernatorial positions, signaling a significant improvement in women's participation in leadership. Despite social, cultural, and economic barriers hindering women's participation in political processes, the 2022 election also recorded an increment in the number of women vying for elective posts, which ultimately resulted in an increased number of women who were successfully elected. Eight women were elected as deputy governors, three in the Senate, 115 as members of the County Assembly,  and 29 as members of parliament. 
UNFPA Kenya representative Anders Thomsen joined a team from the UN in Kenya led by UN Resident Coordinator Dr. Stephen Jackson at a meet-and-greet session with the newly elected Women Governors convened by the Council of Governors in Kenya. The meeting was aimed at providing a platform for the Women Governors and partners to interact and explore possible areas of partnership and collaboration in driving forward Kenya's development agenda at the devolved level. 
"Devolution is key to the delivery of the sustainable development goals, and the formulation of UN programmes in Kenya," said UN Resident Coordinator Dr. Stephen Jackson. We are therefore looking forward to working with you as county leaders in driving the development agenda."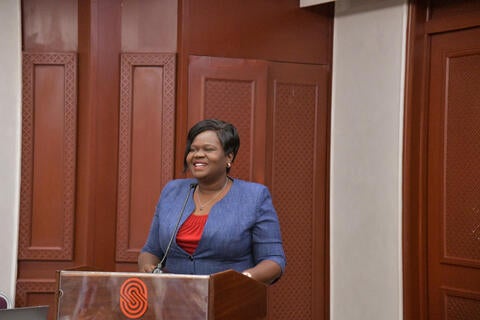 Closing gender gaps in leadership is key to achieving the 2030 Agenda for Sustainable Development, more so the achievement of gender equality and empowerment of women and girls. County governments play a central role in empowering women and protecting the most vulnerable in society through the establishment of legal and institutional frameworks that support equal participation, as well as the structuring of development programs that take into account gender-responsive planning and budgeting.
In presenting their priorities to development partners present at the meeting, the women governors outlined health, water and sanitation, women and youth empowerment, agriculture, and industrialization as among key focus areas of their development plans. "We want to tackle maternal mortality and high rates of teenage pregnancies, and will therefore require investments and partnerships from our development partners to energize our reproductive health initiatives," said Homa Bay Governor Gladys Wanga.
UNFPA is committed to supporting the government of Kenya at the national and sub-national level in the delivery of the three transformative results of zero preventable maternal deaths, zero unmet need for family planning, and zero gender-based violence and harmful practices.