KAJIADO COUNTY, Kenya- At  17 years old and in her final year of high school, Josephine* fell pregnant. Abandoned by her parents and the father of her baby, she had to seek help from a relative when time came to deliver the baby.  "My aunt and a few women from the village assisted me in giving birth at home. The labor was long and difficult, and I started leaking urine and stool a few days after the baby was born," she says. Unbeknown to her, Josephine had developed fistula, a hole in the birth canal caused by prolonged and obstructed labor. 
Following the birth of her baby, Josephine reconciled with her parents who encouraged her to continue with her education. "I enrolled for a food and beverage course at a local college but had to drop out after a month because of the incontinence. I could not sit comfortably in class and the other students shunned me due to the smell." 
Shattered entrepreneurial dreams
32-year-old Miriam developed fistula in 2018, after the birth of her second child. "I labored for more than 18 hours at the hospital before the baby came," she says. Miriam started leaking urine and stool and was diagnosed with fistula. Clients at her hairdressing salon complained about her smell, and many quickly abandoned her services. This forced Miriam to close down her business, leaving her with no source of income. 
" For nearly five years, I have been trying to seek treatment so I could go back to living a normal life, but the cost was too high for my husband and I," she says.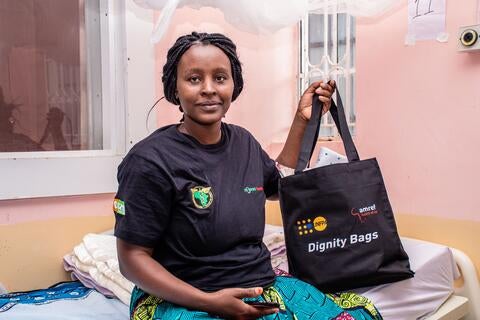 Obstetric fistula is a devastating childbirth injury that leaves women and girls incontinent and often stigmatized and isolated from their families and communities. Most cases of obstetric 
fistula can be treated through surgery, after which women and girls can be reintegrated into their communities. 
Women living with fistula however face barriers in accessing care, including a lack of adequate healthcare facilities and professionals with the necessary skills and essential equipment needed to provide fistula surgery. Where services are available, many women are not aware of them or cannot afford to access them.
Delivering treatment and quality care
UNFPA partnered with  First Lady Margaret Kenyatta's Beyond Zero Initiative, Safaricom and MPESA Foundations, AMREF Health Africa in Kenya, and other partners to provide free reconstructive surgery to more than 30 women living with fistula, including Miriam and Josephine. The fistula camp was held at the Kajiado county referral hospital, in collaboration with the  County Government of Kajiado.
36 healthcare workers comprising of fistula surgeons, nurses, midwives, physiotherapists, and nutritionists at the hospital also underwent training on fistula prevention and treatment in order to scale up the county's capacity to provide access to comprehensive fistula treatment and care, as well as reintegration of survivors into society.
"Over 20% of all deliveries in Kajiado county are home births, conducted by unskilled personnel," says Kajiado county First Lady Mrs. Edna Lenku. "The county also has a high teenage pregnancy rate at 24%, and high prevalence of female genital mutilation, all of which impacts negatively on women and girls' reproductive health and heighten the risk of fistula."
Fistula can be prevented by ensuring skilled care as well as timely emergency obstetric care during births. Addressing underlying health, socioeconomic, and cultural factors that increase the risk of developing fistula during childbirth is also essential to eliminating the condition.
"As UNFPA, we are dedicated to providing the necessary support to the government and other partners in the prevention and treatment of fistula, and most importantly, strengthening healthcare systems to make motherhood safer," said UNFPA Kenya representative Anders Thomsen.
Hope for a better future
After more than 7 years of living with fistula, Josephine* is looking forward to rebuilding her life at 25 years old. "I am so happy and relieved to get this new beginning. I am determined to go back to school and get my diploma," says Josephine. 
For Miriam, the opportunity to reintegrate into the community with dignity will not only improve her life but that of her entire family. "I can now work and help support my husband and children without the shame and indignity I once experienced while living with fistula," she says.
*Name changed to protect privacy.