Growing up in the heart of Nairobi city, 20-year-old Millicent Nyabwari made a few trips to her ancestral village in Kisii county, to visit her maternal relatives. She remembers happy times when she and her four siblings would play with their cousins in the forested hills that surrounded her grandmother's rural home. But during one such visit, Millicent underwent a painful and traumatic event at the age of 7, when she was forced to undergo female genital mutilation.
"Even though I was very young, I knew that what happened was wrong, especially because I was in terrible pain and bleeding for weeks, and nobody would take me to the hospital," she says. FGM is widely practiced among the Kisii community, with 84% of women and girls aged 15-49 having undergone the cut. The county has also reported an increase in the medicalization of the practice, where healthcare workers are involved in performing FGM. According to the 2014 KDHS, at least 15 per cent of medical professionals perform FGM in total disregard to the professional code of conduct and the relevant laws. 
For communities living within Nairobi's largest informal settlement of Kibera, the practice of  FGM remained a closely guarded secret, until young survivors like Millicent began to speak up on the harm caused to them.
"Nobody thinks that girls living in urban settings like Kibera are subjected to FGM because it doesn't happen here. Parents and guardians ship their young daughters to the village during school holidays where they undergo the painful ritual and return a few weeks later having been warned not to tell anybody," says Millicent. Kenya enacted the Prohibition of Female Genital Mutilation Act in 2011, making the practice of FGM illegal with penalties ranging from imprisonment for a term of not less than three years, and in cases where FGM results in death, a life term sentence. 
UNFPA has partnered with Kibera-based girl child welfare organization Polycom Development Project to raise awareness on the harmful effects of female genital mutilation amongst practicing communities. Through community dialogues and workshop sessions, the survivor-led campaign has been able to sensitize parents, teachers, and local authorities on girls' protection and the prevention of FGM within the informal settlement.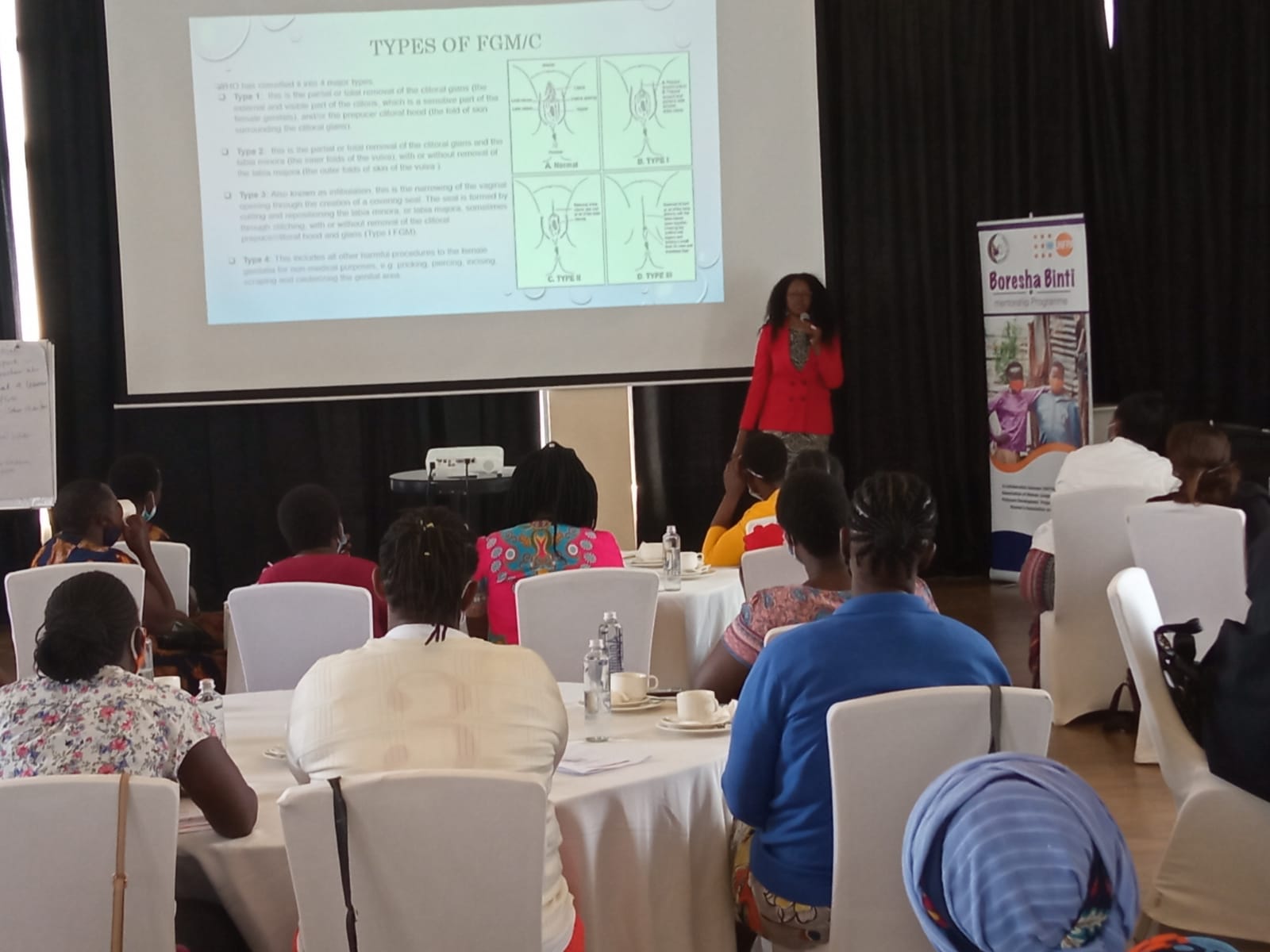 Among those who have participated in the sensitization campaign is Daniel Ochieng', a headteacher at Magoso Primary School located within Kibera. "This workshop has been an eye-opener, particularly on the causes of absenteeism among schoolgirls from FGM practicing communities. We have had cases where parents pull their girls from school or some delay in reporting back after the holidays, and when teachers investigate, no satisfactory reason is given," he says. " As educators, we need to look out for girls who may be at risk of undergoing FGM both at the school and within the community,  to ensure that they are not subjected to the practice under our watch."
Anti-FGM efforts are also helping to change the traditional beliefs held by parents who subject their daughters to the practice. After undergoing a training on the negative impact of FGM on women and girls health, Millicent's mother has pledged not to subject her two youngest daughters to FGM. Other parents in the close-knit community have also followed suit in vowing to protect their daughters from FGM. "For the longest time, my mother believed that one way of grounding her children in tradition was by taking them back to the village to undergo FGM. I am so happy to hear her declare that my sisters will not go through the same trauma I had to endure," says Millicent. 
Through the UNFPA-UNICEF Joint Programme on the Elimination of Female Genital Mutilation, continued investments in building partnerships to help eliminate the practice have resulted in significant progress reported across FGM hotspots in Kenya. "By working with a  wide range of stakeholders and allies including men and boys, reformed circumcisers, religious leaders and youth groups, our focus is on accelerating progress in line with the presidential commitment to end FGM by 2022," says UNFPA Gender Analyst Dinah Mutinda.