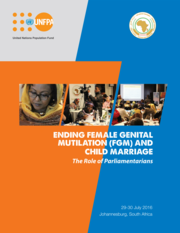 Parliamentarians from the Pan-African Parliament Women's Caucus and UNFPE organized a two day meeting Johannesburg to discuss how to accelerate action to end female genital mutilation (FGM) and child marriage in Africa.
Around 80 women representing parliaments from across the continent discussed the challenges faced by women and girls as a result of FGM and child marriage, and shared their experiences.
Read the full report and the action that was drafted jointly by the Pan-African Parliament, UNFPA East and Southern Africa Regional Office (ESARO) and UNFPA West and Central Africa Regional Office (WCARO) in Johannesburg, South Africa from 29-30 July.
Full review