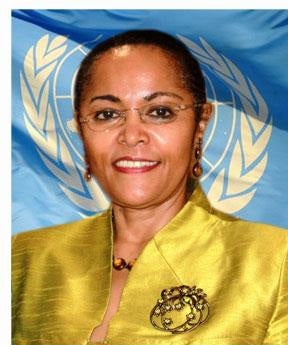 Ms Nardos Bekele-Thomas has been appointed the Resident Representative of the United Nations Development Programme (UNDP) and the Resident Coordinator of the United Nations system in Kenya.
Ms. Bekele-Thomas, an Ethiopian nationality, is a seasoned and experienced UN official and was until recently serving as the Resident Coordinator (RC) of the United Nations (UN) and Resident Representative (RR) of the United Nations Development Program (UNDP) in the Republic of Benin. She served as Officer-In-Charge of UNDP in Benin from 11/2008 to 06/2009.
Prior to her appointment as RC/RR in Benin, Nardos served for over four years in Kenya as Deputy Resident Representative of UNDP (2004-08), prior to that she was in New York as UNDP Country Program Adviser for East and Central Africa in the Regional Bureau for Africa (2001-2004). As Regional Private Sector Policy Adviser (1998-2001), Nardos conducted extensive research on private sector development, supported the strengthening of African business associations, provided advisory services and played advocacy role in the promotion of women and youth empowerment and the development and management of micro, small and medium-scale enterprises. Based on her strong belief, she has carried out policy studies and developed programs on the promotion of entrepreneurship and business skills training for employment and job creation. 
As Chief Technical Advisor, she has served the Government of Uganda (1994-98), and played an advocacy and advisory role in favor of youth enterprise development, private sector development, rural socio-economic transformation and effective Decentralized Governance.
Over the last three decades, Mrs. Bekele-Thomas has also lived and served in various capacities: in Ethiopia, as Associate Liaison Officer with ECA and OAU (1979-82), and as Assistant Resident Representative in India (1987-88), and Bhutan (1988-89), Deputy Resident Representative a.i and Assistant Resident Representative in Comoros Islands (1989-90), and Republic of Benin (l990-93).
Mrs. Bekele-Thomas has a Masters Degree in Economic Development, Monetary Economics and Econometrics from New York University (NYU) and a Ph.D candidate also at NYU. She is the author of several papers and monographs and she is fully bilingual in French and English.
Ms. Bekele-Thomas joins the Kenya Country Office at a very critical time as UNDP continues to support the Government of Kenya in the transitional process of its governance structures.