The United Nations Population Fund (UNFPA) Representative Mr. Siddharth Chatterjee paid a courtesy call to Her Excellency the First Lady of the Republic of Kenya Mrs Margaret Kenyatta at the State House Nairobi.
Mr. Chatterjee today congratulated Her Excellency on the efforts she is making to advance maternal health in Kenya through the Beyond Zero Campaign. The First Lady was pleased to hear that UNFPA was committed to advancing maternal health and welcomed UNFPA's support to reduce maternal mortality in Kenya.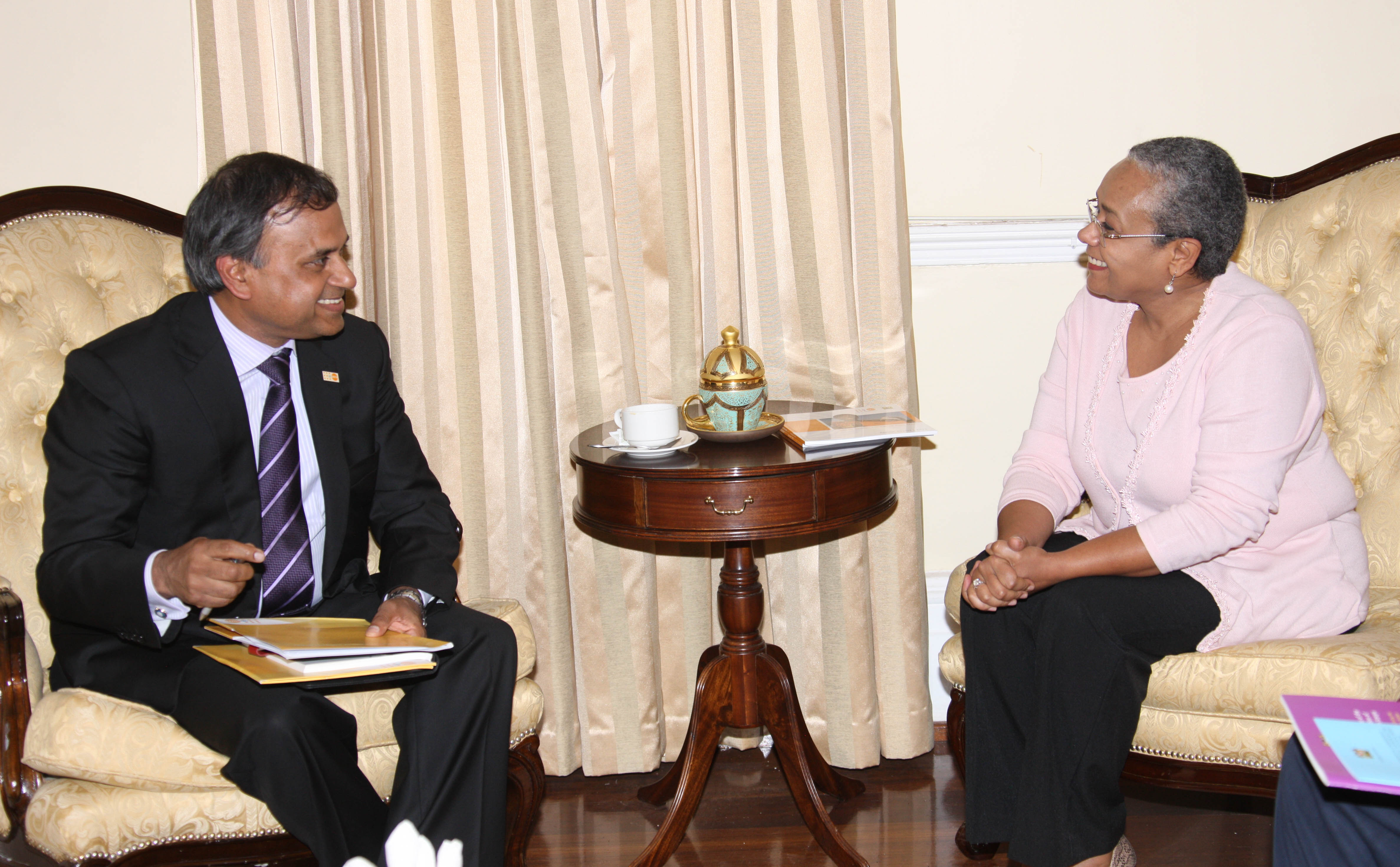 Statistics indicate that over 5,500 women in Kenya die annually due to pregnancy and birth related complications. In 2012 alone, over 100,000 children below age five died before their first birthday. In the same year, there were over 13,000 new HIV infections among children, of whom 62% did not access life-saving medication. The First Lady launched the Beyond Zero Campaign effectively deliver on her pledge made during the summit held in Addis Ababa by the Organization of First Ladies against HIV and AIDS in Africa where she committed to champion a campaign to eliminate new HIV infections among children and to keep their mothers alive.
To highlight the poor state of maternal health in Kenya the First Lady ran a half and full marathon (in Nairobi and London respectively) to advance the Beyond Zero campaign and raise awareness on the need to reducing maternal and child deaths in Kenya.
Led by the UN Resident Coordinator in Kenya, Ms Nardos Bekele-Thomas, the UN Country Team in Kenya are coming together to deliver as one and advocating the need to drastically reduce maternal deaths in Kenya and improving Kenya's performance on the Millennium Development Goal (MDG) 5. This goal's objective is to reduce by three-quarters the country's maternal morality ratio and to achieve universal access to reproductive healthby 2015.
Mr. Chatterjee conveyed UNFPA Executive Director Dr. Babatunde Osotimehin's warm greetings to the First Lady and UNFPA's steadfast commitment to support the Government of Kenya. "My marching orders from Dr Osotimehin when I was appointed as his Representative was to ensure UNFPA Kenya does everything possible to advance sexual and reproductive health and the rights of all Kenyans" added Mr Chatterjee.
"UNFPA plans to support the Government of Kenya through the Ministry of Health and the County leadership to scale up initiatives in ten (10) of the counties that have recorded the highest maternal mortality rates in the country (between 55-60%)," said Mr. Chatterjee. UNFPA Kenya has committed to support the Ministry of Health convene a meeting of Governors, their spouses, health executives from these 10 counties and key partners to discuss the measures needed to accelerate progress on maternal health, Further, UNFPA will seek to work with all partners and explore innovations that can help save the lives of pregnant women in hard to reach and remote areas who are the most vulnerable.
He congratulated the Government of Kenya for adopting the free maternity services policy and for allocating Kshs. 4 billion towards maternal health in the 2014/15 budget. "This will go a long way in improving quality of care in government facilities," he said. "UNFPA Kenya has placed the adolescent girl in the centre of our initiatives as this will reduce her vulnerability to early, unwanted pregnancies; poor access to health facilities and education; and to harmful cultural practices that prevent her from realizing her full potential and from establishing a well-grounded foundation for her family."
Mr. Chatterjee also congratulated the Government for successfully piloting the HPV vaccine in Kitui and the commitment to roll out the same nationally; and appealed to the First Lady to integrate HPV and adolescent health in the Beyond Zero campaign.
The First Lady and Mr Chatterjee strongly agreed that, "No woman should die giving life".